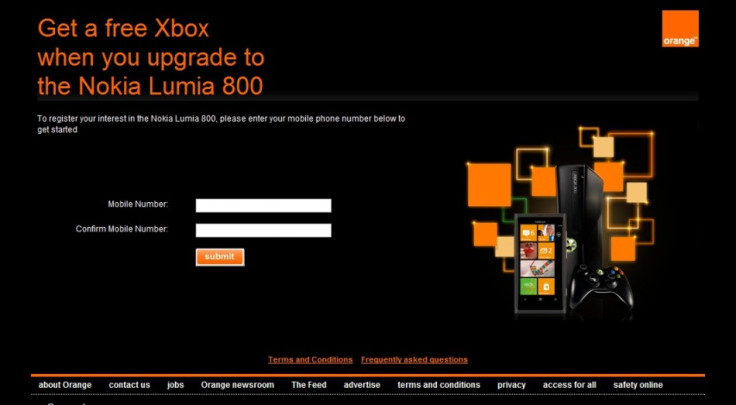 Attempting to draw consumers to Nokia's forthcoming Windows Phone, the Lumia 800, Orange is offering existing customers a free 4GB Xbox 360 when they upgrade to the Lumia 800 on an 18 or 24 month contract.
The deal begins on 16 November, closing a few weeks later on 30 November. The Lumia 800 is currently available for pre-order on Orange's website. The offer is among the first from network providers to openly attempt to boost the new high-end Mango-powered smartphone's opening sales.
The deal is reportedly on a first come, first served basis and in its statement Orange was quick to confirm it only had a limited supply of the games consoles.
Originally codenamed the Sea Ray, the Lumia 800 was unveiled Wednesday and is to be the first high-end Windows Phone device set to be released in Nokia's new series.
The device will house a mediocre 3.7-inch Super AMOLED number, with a resolution of 480x800 pixels. As is to be expected the device will be powered by the latest Windows Phone Mango OS. Additionally, the device will boast a 1.4GHz processor backed up with 512 MB of RAM and 16GB of internal storage.
As is the case with most recent high-end Nokia devices, the new Lumia 800 will also include a nice camera. The new Windows Phone is set to include an impressive eight-megapixel autofocus snapper, with its very own Carl Zeiss lens and LED flash. The camera will reportedly be able to record 720p HD video at 30fps.