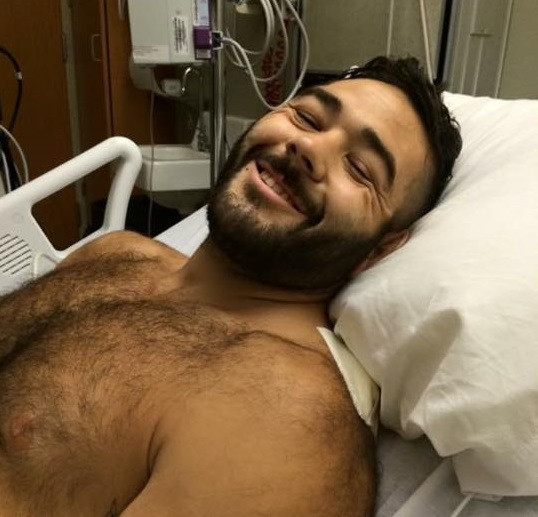 The family of an army veteran who was shot seven times as he attempted to save others during the killings at Oregon's Umpqua Community College have set up a fundraiser for him. Chris Mintz, 30, was said to have charged at shooter Chris Harper-Mercer during the attack at the college in order to save his fellow classmates.
Mintz was hit multiple times including in the legs, back and abdomen while he faced up to the shooter responsible for killing nine people. According to reports, the shooting occurred on the day of his son's sixth birthday.
His aunt, Sheila Brown, told NBC News that the father of one "did heroic things to protect some people". Eyewitness Hannah Miles added to ABC News. "He ran to the library and pulled the alarms and he was telling people to run, grabbing people, telling them, 'You just have to go.'
"He actually ran back towards the building where the shooting was and he ran back into the building and I don't know what happened to him."
The actions of Mintz have not gone unnoticed, with the Daily Beast publishing an opinion piece about him entitled 'Forget Oregon's Gunman. Remember the Hero Who Charged Straight at Him'. The author of the piece, Michael Daly, writes:
Derek Bourgeois, the cousin of Mintz, has now set up a GoFundMe page to assist with his recovery he is "going to have to go through a ton of physical therapy".
Bourgeois added: "He is a father, a veteran, a student and now he's a hero. While Chris is not the type of person to ask for it, he is going to need all of the help he can get while he recovers."
Two hours after it had gone live, the page had already raised more than $17,000 (£11,000). Valerie Walkup, one of those who donated, wrote a message to Mintz on the page saying: "You did something many of us wish we'd be able to do in this situation and that seems rare. Thank you for your actions and thank you for your service. I'm glad you're still on the planet Chris. Lighting a candle for your recovery and for the energy you're going to need for physical and emotional healing. God speed."
After spending 10 years in the army, Mintz began cage-fighting but enrolled at the community college in Roseburg with the goal of becoming a fitness coach.