Authorities have said the mass shooting at an LGBT nightclub in Orlando, Florida was a "an act of terrorism". Approximately 20 people were dead inside the club, according to police. At a press conference, Orlando Police Chief John Mina said "many lives were lost" and 42 people had been taken to hospital. The Federal Bureau of Investigation is assisting and agents stated they cannot rule this out as an act of domestic terrorism.
When questioned by a reporter, an FBI spokesman said that there were "suggestions" that the suspect had leanings towards a radical Islamic ideology but said that the motive was not yet clear.
Christpher Hansen, who was at the club, described chaotic scenes in the aftermath of the shooting. "There were just bodies everywhere," he told the BBC. "In the parking lot, they were tagging them - red, yellow - so they knew who to help first and who not help first. Pants down, shirts cut off, they had to find the bullets. Just blood everywhere."
The situation started around 2am local time when a gunman opened fired on people at the nightclub. One person telling Sky News: "People just dropped on the floor. I guess the shooter was shooting at the ceiling because you could see all the glass from the lamps falling." Police described the scene as a "mass casualty situation" as the gunman barricaded themselves inside the club with a number of hostages.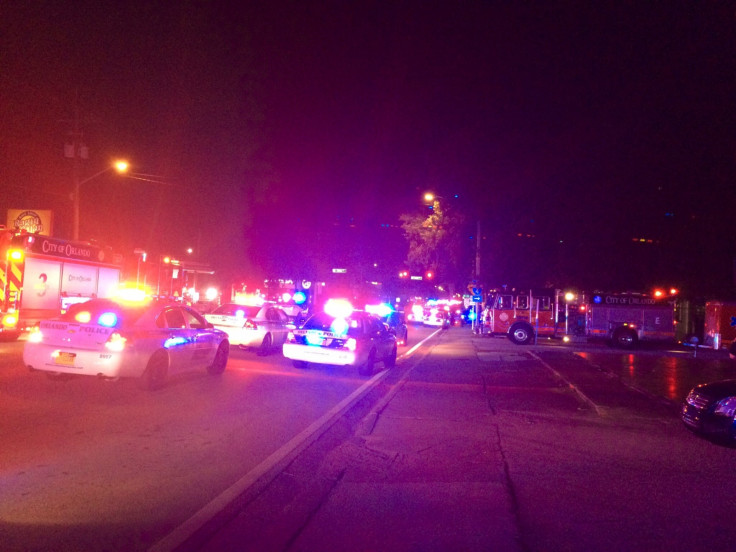 Rosie Feba told the Orlando Sentinel that she and her girlfriend were in the club near closing time when, "she told me someone was shooting. Everyone was getting on the floor. I told her I didn't think it was real, I thought it was just part of the music, until I saw fire coming out of his gun."
Police chief Mina, said that the police had an officer inside Pulse who fired at the suspect when he started shooting. The gunman took hostages to another area in the club and the police launched an operation to save the hostages. Police carried out a controlled explosion outside the popular gay venue.

The FBI have said that there is there is nothing to suggest any further threat in Orlando or the surrounding areas. Police said that an officer shot and killed the suspect during the gunfire, while one of their officers was shot and saved by his Kelvar helmet.
Police are asking anyone with information to call the FBI hotline on 1-800-CALL FBI.