US President Barack Obama has described the deadliest shooting in US history that left at least 50 people dead at the Pulse nightclub in Orlando as a "horrific massacre". His speech took place as it emerged that Islamic State (IS) had claimed responsibility for the attack, according to the Amaq news agency.

In the 15th time in his presidency where he has had to address the country following a mass shooting, Obama said the incident was an act of terror.
"Today, we mourn the horrific massacre of dozens of innocent people. We pray for their families, who are grasping for answers with broken hearts. We stand with the people of Orlando, who have endured a terrible attack on their city. Although it is still early in the investigation, we know enough to say that this was an act of terror and an act of hate, and as Americans we are united in grief, in outrage and resolve to defend our people," the president said.
The FBI is leading the investigation with local law enforcement treating the deadliest mass shooting in US history as an act of terrorism.
A statement carried by the Amaq news agency, which is tied to IS, said the mass shooting was "carried out by an Islamic State fighter". However officials have warned that any alleged links between the 29-year-old gunman and IS needed to be looked at further.
Orlando Mayor Buddy Dyer said a state of emergency has been declared in Orlando and that he has asked Florida's governor to issue a state-wide state of emergency.
Meanwhile Homeland Security Chairman Michael McCaul said: "This appears to be the worst terrorist attack on American soil since 9/11, and it is a sobering reminder that radical Islamists are targeting our country and our way of life."
Obama said: "We are still learning all the facts. This is an open investigation. We've reached no definitive judgement on the precise motivations of the killer. What is clear is that he was a person filled with hatred. Over the coming days we will uncover why and how this happened."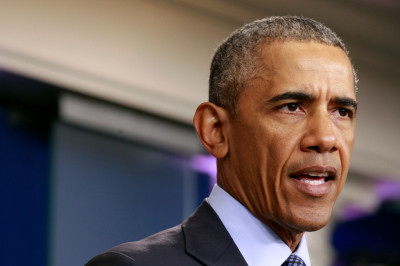 The shooter was identified as Omar Mateen. Authorities state Mateen may have been inspired by the Islamic State (Isis), with the media reporting the shooter called 911 during the attack to identify himself and pledge allegiance to Isis. The 29-year-old shooter also reportedly referenced the Boston Marathon bombers.
However, Mateen's father, Mir Seddique, told NBC News that he believes his son was motivated by homophobia. "We were in Downtown Miami, Bayside, people were playing music. And he saw two men kissing each other in front of his wife and kid and he got very angry," he said. "They were kissing each other and touching each other and he said: 'Look at that. In front of my son they are doing that', and then we were in the men's bathroom and men were kissing each other."
Mir Seddique apologised and added: "This had nothing to do with religion"
The US president meanwhile described in his five-minute address what was a "heartbreaking day for fellow Americans who are lesbian, gay, bisexual or transgender.
"The shooter targeted a nightclub where people came together to be with friends, to dance, and to sing, and to live. That place where they were attacked was more than a nightclub. It's a place of solidarity and empowerment where people have come together to raise awareness, to speak their minds and to advocate for their civil rights," the president said.
He continued: "This is a sobering reminder that attacks on any American, regardless of race, ethnicity, religion or sexual orientation, is an attack on all of us and on the fundamental values of equality and dignity that define us as a country. And no act of hate or terror will ever change who we are or the values that make us Americans."
The president called the attack the "most deadly shooting in American history" and noted that the massacre was a reminder of how "easy it is for someone to get their hands on a weapon that lets them shoot people in a school or in a house of worship or a movie theatre or in a nightclub." He added, "And we have to decide if that's the kind of country we want to be, and to actively do nothing is a decision as well."
Obama sent his condolences to the survivors and the families of the victims, "May God give them the strength to bear the unbearable." Following his remarks, the president ordered flags throughout the country be flown at half-staff in honour of the victims.