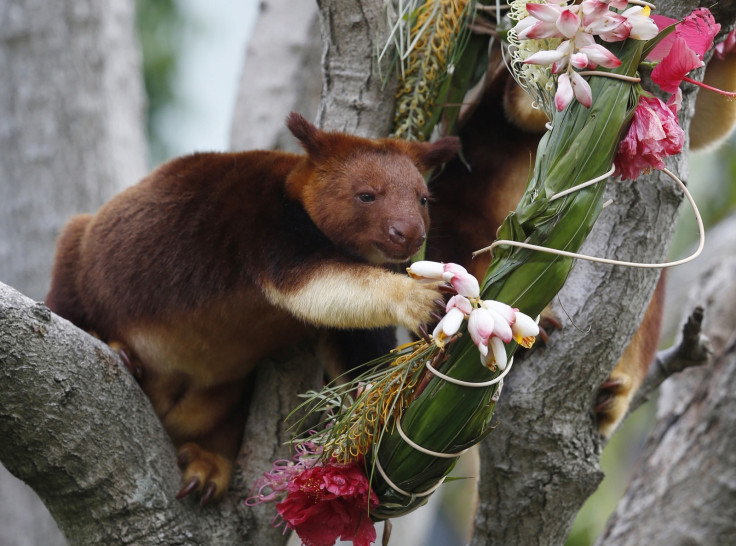 An orphaned Goodfellow's tree kangaroo at Adelaide Zoo, Australia's second oldest zoo, is being sent to a new home in Singapore for breeding. Makaia, called the "miracle" tree kangaroo, is expected to mate with a female of his species from Sydney's Taronga Zoo to start his own family.
Dr Ian Smith, Adelaide Zoo senior veterinarian, is hoping that Makaia will form an important part of the international breeding programme aimed at saving the endangered species from extinction.
The veterinary team at the Adelaide zoo will give out Makaia's final health report on Monday (27 June), following which he will be prepared for his journey next week. Makai was adopted by a wallaby in November 2014, marking the first case of cross-fostering in tree kangaroos. He was just seven weeks old when his mother died leading to his adoption, which made headlines across Australia and elsewhere too.
"Cross-fostering" is a technique that Adelaide Zoo had been employing since the 1990s, under which progenies at risk are kept in the pouch of a surrogate mother of a different wallaby species. Likewise, Makaia was also kept in the pouch of a wallaby for three and half months until her pouch became small for him. He was then taken over by a keeper at the zoo.
Tree kangaroos live in the tropical rainforests of New Guinea, far northeastern Queensland, and some of the islands in the region. Known as the only true arboreal macropods, they are now listed under endangered species because of hunting and habitat destruction.
"We've had great success over the years cross-fostering between wallaby species, but the specialised breeding technique had never been used on a tree kangaroo before, so it was a huge achievement for the zoo," Smith said.
"We couldn't be happier with how he has grown and developed. It's now time for him to start his next chapter and we're confident he's going to do really well.
"He is extremely genetically valuable for the region and we are hopeful he will form an important part of the international breeding program working to save this endangered species from extinction," Smith added.