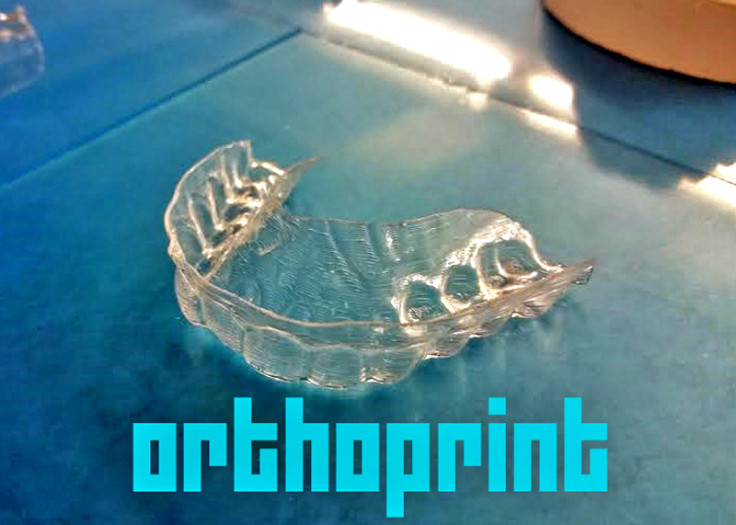 Can't afford expensive cosmetic dental surgery but wishing you don't have to live with crooked teeth? A New Jersey Institute of Technology (NIJIT) university student in the US has solved this problem by creating his very own orthodontics using 3D printing and 3D scanning technology.
Amos Dudley was feeling embarrassed about the appearance of his teeth, to the extent that he no longer smiled at people, but as an undergraduate student, he could not afford costly cosmetic dental surgery.
However, while looking up some popular clear orthodontic aligner braces on the internet, like the clear Invisalign invisible braces which cost between £2,500 and £4,500 ($3,520-$6,336), he started wondering if it would be possible to make his own.
As a 3D environment artist studying at NIJIT, Dudley was comfortable using 3D modelling software and he also had access to a university laboratory full of expensive digital fabrication tools, so he decided to experiment with the technology available.
Dudley researched the procedure carried out by dentists when seeking to treat a patient with a clear aligner brace and found that dentists typically first take an impression of the patient's teeth, create a mould and then send the resulting cast to be 3D scanned.
Then the orthodontics manufacturer uses proprietary software to create a series of 3D models showing each step a misaligned tooth needs to take in order to move into the correct alignment, and finally, the thermoplastic aligner material is vacuum-formed over the 3D printed models and the patient is given a series of aligner braces to correct the problem over time.
Saving thousands by 3D printing his own clear braces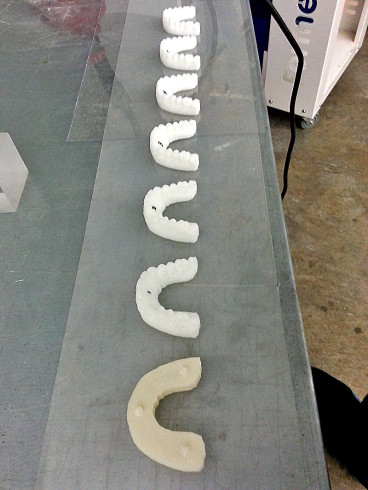 Realising that he could replicate this method, Dudley explains on his blog that he first created a mould of his teeth using an inexpensive alginate powder known as Permastone and a 3D printed impression tray. After that, he 3D scanned the mould and then used CAD software to animate each tooth into its correct position by measuring the total distance the tooth needed to move and then dividing it by the maximum recommended distance that a tooth could travel per aligner brace worn.
He then used a Stratasys Dimension 1200es 3D printer to print out each 3D model, bought Keystone Pro-Form .030" vacuum forming plastic from eBay and then used the vacuum forming machine to create the retainer braces from the 3D models. He then smoothed out the edges so that they wouldn't hurt his gums using a Dremel with a sanding drum.
The end result was that after creating the clear plastic aligner braces and wearing them every day for 16 weeks, Dudley's teeth have indeed been realigned, and he even managed to use the braces as teeth whitening trays as well.
Although Dudley has proved that he can do it, he warns that no one should really follow his example, as it was entirely possible to get it wrong and cause damage to the teeth. Still if you have the professional skills to do your own 3D scanning and printing, then anything is possible with similar stunning results.
This story is somewhat identical to that of Andiamo – a startup revolving around 3D printing orthotics for disabled children, borne from one family's struggle to get the correct orthotics printed for their child without having to wait for months on an NHS waiting list.