Pele, Socrates and Zico; when Brazil hand out their No.10 shirt, they have a handy knack of getting in right. And on early evidence it appears the latest custodian of one of world's football's most famous shirts is about to follow in the footsteps of the Brazilian legends of yesteryear.
In Oscar, a 21 year old who began his footballing education with Uniao Barbarense and then with Sao Paulo and Internacional, is now executing his much heralded ability at Chelsea, where his performances, which are accompanied by verve and panache, have so far done justice to his international billing.
The new found pace and attacking license handed to The Blues by Roberto di Matteo is seeing Oscar work in tandem with Juan Mata and another of the Chelsea's summer recruits Eden Hazard. Despite being the same age and arriving with a big reputation and a giant transfer fee, the talented Samba star has overshadowed the Belgian's own start to Premier League life.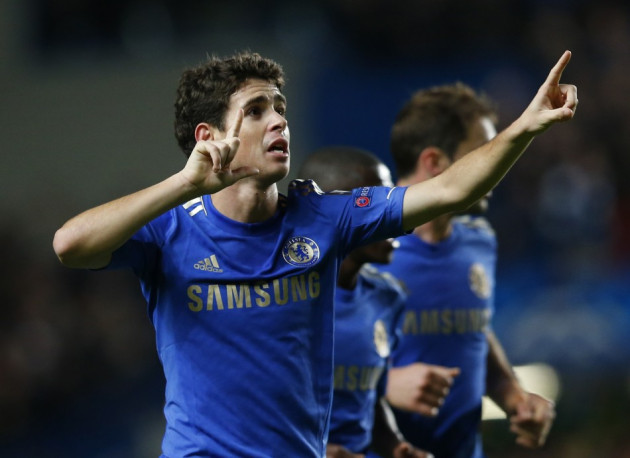 While in his homeland the public are quick to label any new attacking midfielder as the heir apparent to Kaka, whose career has stalled since his switch from AC Milan to Real Madrid, his showings so far in English football suggest those comparisons may soon been quashed altogether.
At this stage in his career, Oscar appears to bring much more to the table. His Brazilian upbringing makes him as technically sound as any in the world, but his vision and calmness in possession amid the pace of England's top flight has been a joy to watch.
In the Champions League, his role has altered slightly. Against Juventus, Oscar was employed to man-mark Italian maestro Andrea Pirlo, however those who felt his attacking traits would be nullified were to be mistaken, with a stunning finish kick-starting Chelsea's campaign.
His latest contribution came again in the Champions League,this time against Shakhtar Donetsk, where he riffled in an effort from 35 yards following Andriy Pyatov's hap-hazard clearance to put Chelsea ahead for a second time on the night.
At Stamford Bridge, Oscar has joined a club already possessing a number of stand out names, Champions League winners no less, and purely through performance, has put them all the shadow.
Come the World Cup finals in Brazil in 2014, the focus is likely to be on Santos star Neymar, who, to his benefit, is yet to be enticed by the delights of Europe. Don't be surprised to see Oscar, in his own subtle way be the shining light on that particular stage either.