Oscar Pistorius has been sentenced to six years in prison for the murder of his girlfriend Reeva Steenkamp.
The Paralympic athlete was originally convicted of manslaughter in September 2014 after shooting his girlfriend dead on Valentine's Day in 2013, but after a prosecution appeal in December 2015, the sentence was upgraded to murder.
The retrial, which began on 13 June in Pretoria, South Africa, could have seen Pistorius facing a 15-year jail sentence, but its conclusion today (6 July) saw Judge Thokozile Masipa give the runner just six years, stating a long-term prison sentence would not serve justice.
Masipa, who ahead of sentencing commended Pistorius for offering to do community service but told him punishment should be painful, added she would be available to hear an appeal, if one was made, The Guardian reported.
Pistorius was previously sentenced to five years when he was found guilty of culpable homicide, and served 10 months in prison before being relocated to his home under house arrest.
It is currently unclear how much of the new six-year sentence he will be required to serve.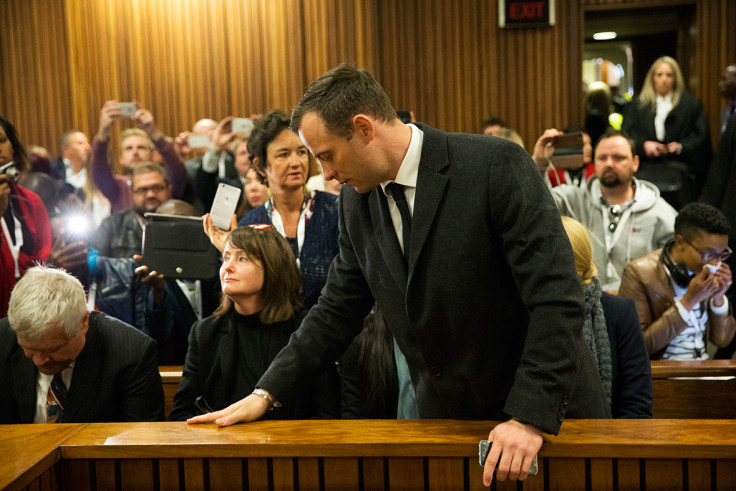 In an interview with ITV, which aired on 23 June, Pistorius said he did not want to be charged with murder and would instead prefer a longer sentence associated with a manslaughter charge – as he maintains he was unaware his girlfriend was in the bathroom when he fired the fatal shots, insisting he believed her to be an intruder.
"At times I don't feel like I should have the right to live for taking someone else's life. What's difficult is dealing with the charge of murder," he told ITV. "The day before we started the trial I sat with my lawyers and I said to them: 'I will spend 10 years in jail for taking Reeva's life, for culpable homicide, but I won't spend a day in jail for murdering anyone.'"
Reeva Steenkamp's parents and other family members were in court as Pistorius was sentenced on 6 July.