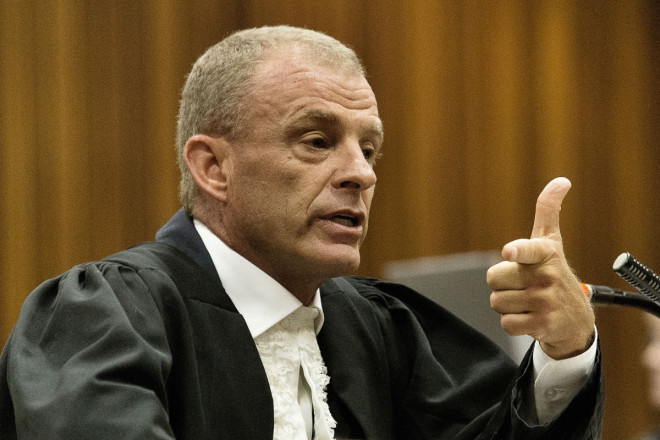 Oscar Pistorius's attempt to discredit earlier witnesses drew a loud laugh from Gerrie Nel as the prosecutor's cross-examination continued into its second day in the murder trial of Reeva Steenkamp.
Nel relentlessly attacked the runner's credibility by painting him as a selfish lying egotist adding that Pistorius, 27, always tried to blame "everyone but himself".
He laughed when Pistorius said he "could not remember" who told him that two other trial witnesses had been communicating with each other regarding evidence presented earlier.
Pistorius claimed ex-girlfirend Samantha Taylor and pal Darren Fresco were wrong to testify under oath that he had fired a gunshot through a car roof.
He said the pair had been in contact with each other, but could not recall who told him this -- causing mirth in the courtroom.
Judge Thokozile Masipa intervened when some members of the public gallery joined in Nel's laughter, saying: "You may think this is entertainment. It is not."
Steenkamp's mother June did not appear to be in the public gallery at the time it happened.
Earlier, Nel accused Pistorius of stage managing his emotional apology to the Steenkamp family on Monday. He said: "That was more than a year after the event. Why would you create a spectacle in the public eye and not in private? You never thought about how they would feel sitting in the public gallery."
During cross-examination about incidents involving guns in public, Nel told the Olympian and Paralympian: "Oscar Pistorius will not concede anything. You will not take responsibility and concede anything."
The track star repeatedly refused to accept Nel's claim he had pulled the trigger on a gun to make it fire at Tasha's restaurant. Pistorius said it had gone off in an unknown different way. Earlier in proceedings, a police officer said it was "impossible" for the gun to fire without the trigger being pulled.
Nel replied: "There's something deeper here that I don't understand. If you're presented with a set of facts which point to you discharging that firearm, you're not prepared to accept that. That is troubling."
Pistorius denies murder and claims he mistook Steenkamp for an intruder. The prosecution alleges he killed her following an argument between the couple.
The trial continues.