Clothes worn by Reeva Steenkamp, the late girlfriend of paralympian Oscar Pistorius, may help to secure a conviction for her murder.
The 29-year-old was dressed in a black top and white shorts when she was shot by Pistorius.
Prosecutors say the fact that she was found in clothes rather than pyjamas contradicts the athlete's claim that the couple had been asleep in bed together.
The South African athlete says Steenkamp must have got up to go to the toilet. He claims to have mistaken her for an intruder.
A spokesman for the prosecution team said: "We believe that Reeva was running away and she locked herself in the bathroom.
"There is a piece of evidence around the clothes that could suggest what happened there."
Police have also requested assistance from the FBI to back their request to Apple to unlock Pistorius's iPhone 5. The double-amputee athlete claims he has forgotten the password.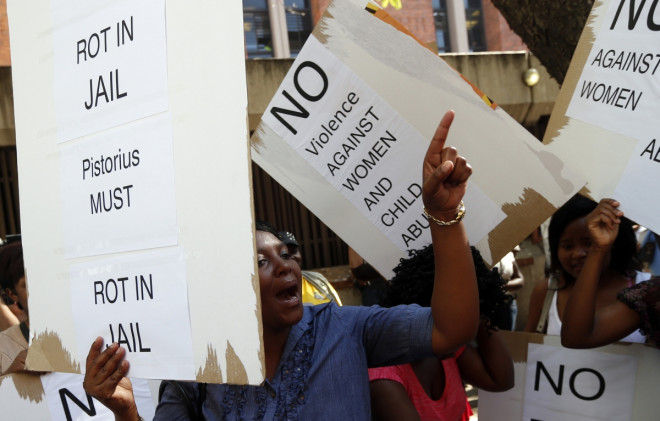 The mobile could hold vital evidence stored on iCloud as well as texts, emails and calls.
A source told the Sunday Mirror: "The prosecutors are interested about why the phones were discovered in the bathroom near where Reeva was found."
The legal team for Pistorius will call on at least four forensic scientists and have also hired a US forensic animation company to recreate the crime scene digitally.
The team for Pistorius has set up a Twitter account, @OscarHardTruth. It reads: "Truth shall prevail. Innocent until proven guilty." By Saturday the account had almost 27,000 followers.
The trial starts on Monday and will be televised, Around 107 witnesses are due to give evidence. Among them are Pistorius's sister Aimee and his uncle Arnold.
The athlete's ex-girlfriends Melissa Rom and Samantha Taylor will also take the stand, as well as medical witnesses, paramedics, ballistic and forensic experts.
There will also be testimony from neighbours who say they heard the couple arguing, while a security guard is also expected to give evidence that he rang Pistorius's home after hearing gunshots, only to be told by the athlete that everything was fine.
Prosecutors are seeking a life sentence for Pistorius and if convicted, he could serve at least 25 years in prison.