Photographs of Oscar Pistorius taken only minutes after he shot dead Reeva Steenkamp have been shown at his murder trial.
The images shot from front and side angles shows the muscular Olympian and Paralympian topless with blood spattered on his left arm and legs. The 27-year-old was wearing blue pants and tattooed letters were visible on his back.
The tenth day of the trial at North Gauteng High Court featured graphic evidence including post mortem photos of Steenkamp showing her injuries. Prosecutors warned the court the images would be disturbing.
Pistorius appeared to struggle and covered his face with his hands as blanked out pictures flashed up with titles like: "face of deceased" and "wounds on back of deceased."
Yesterday saw the fallen star vomit in to a bucket when he saw other crime scene pictures. Two of Steenkamp's friends also fled the court when a picture of her body was shown in error.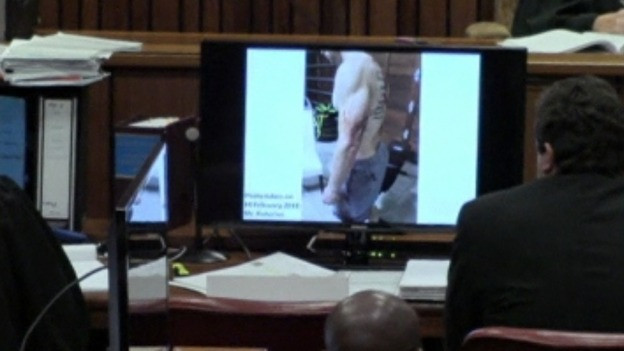 Police officer Van Rensburg told how Steenkamp's body was disturbed at the crime scene in order to take photographs. Pistorius's defence appeared to be attempting to show the crime scene at the runner's home on the outskirts of Pretoria was tainted in the early stages of investigation by police.
Giving evidence this morning (Friday), Van Rensburg told the court he "suspected" Pistorius upon arriving at the scene.
He said: "I treated him as a suspect at that stage [and warned him of his rights […] I asked the accused if they were alone in the house. He responded saying that yes they were. […] I told him that in light of what I saw, referring to the crime scene, that I was taking him as a suspect at that stage."
Van Rensburg also told the court he was "furious" about the disappearance from the crime scene of an expensive watch belonging to Pistorius.
The Olympian and Paralympian denies murdering girlfriend Steenkamp. He claims he thought she had been an intruder. The prosecution claims he shot her dead following a row between the couple. Pistorius also faces firearms charges.