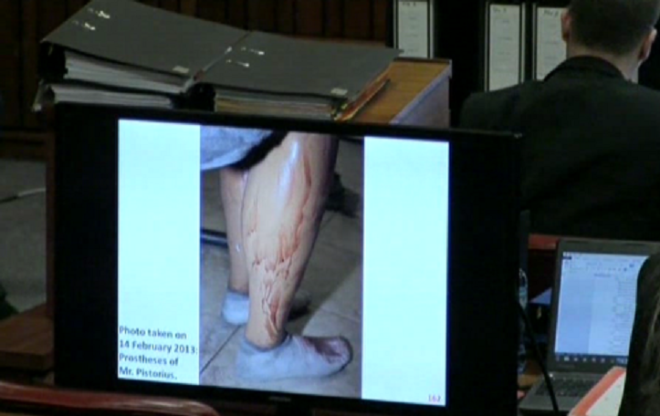 Friends of Reeva Steenkamp wept in court as they saw graphic images of her blood smeared on Oscar Pistorius's prosthetic leg and the floor of his bathroom.
North Gauteng High Court was shown the bloody photographs of Steenkamp's blood after being shot by the track star.
Steenkamp's blood was visible on Pistorius's prosthetic leg. There was also blood on tiles of the bathroom floor and on the toilet bowl
Seeing the images of the death scene was too much for some of Steenkamp's friends present in court. Pal Desi Myers bowed her head and looked like she was crying.
Olympian and Paralympian Pistorius stared impassively at the images flashing up on the screen.
Earlier in the trial, the court heard Pistorius used shells designed to cause maximum carnage when striking human tissue, to kill Steenkamp. On that occasion in court, Pistorius was overcome by emotion and vommited repeatedly into a bucket.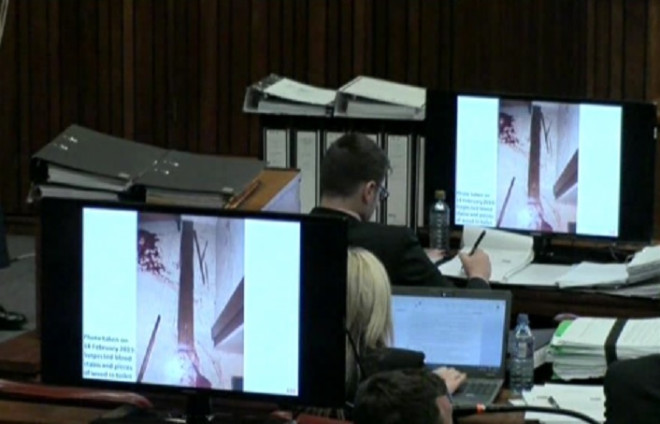 The distressing images were shown as Roux pursued a line of questioning aimed at portraying police investigation into her killing as flawed.
Roux questioned Lt Col Vermeulen about how police treated the crime scene in the early stages of the police investigation.
Vermeulen was giving evidence for a second day at Pistorius's murder trial.
Yesterday saw Vermeulen demonstrate how Pistorius used a cricket bat to attack the bathroom door after firing four times through it.
Pistorius shot dead his girlfriend on Valentine's Day last year, but claims he thought she was an intruder.
The disabled track star was described as a big gun fan by friend Darren Fresco , who claimed he started laughing after he fired a gun through the sun-roof of a vehicle the pair were travelling in with Samantha Taylor, the runner's ex-girlfriend.
The runner denies murder. He also faces up to four firearms charges. The trial continues.