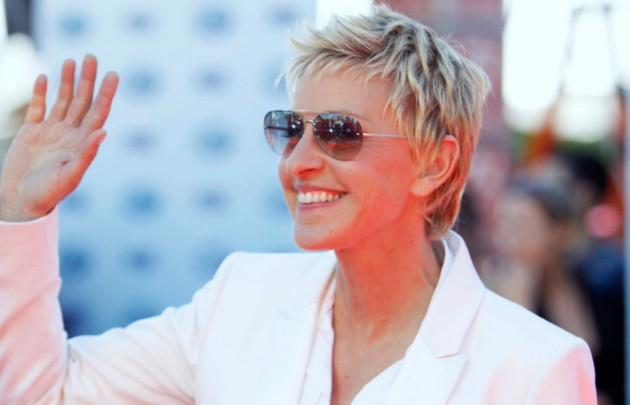 American chat show host and comedian Ellen DeGeneres will host the Oscars for a second time.
The 55-year-old took to Twitter to reveal the news: "It's official: I'm hosting the #Oscars! I'd like to thank @TheAcademy, my wife Portia and, oh dear, there goes the orchestra."
DeGeneres received an Emmy nomination for Outstanding Individual Performance in a Variety or Music Program for hosting the 79th Academy Awards in 2007.
"I am so excited to be hosting the Oscars for the second time. You know what they say - the third time's the charm," DeGeneres said in a statement.
Oscars producers Craig Zadan and Neil Meron also expressed their happiness, announcing DeGeneres as the Oscars host.
"We are thrilled to have Ellen DeGeneres host the Oscars," they said, "As a longtime friend, we had always hoped to find a project for us to do together and nothing could be more exciting than teaming up to do the Oscars. There are few stars today who have Ellen's gift for comedy, with her great warmth and humanity. She is beloved everywhere and we expect that the audience at the Dolby Theatre, and in homes around the globe, will be as excited by this news as we are."
DeGeneres is only the second woman to host the ceremony solo, following Whoopi Goldberg, who has hosted the Oscars four times; the latest being in 2002.
Last year, the event hosted by comedian and Family Guy creator Seth MacFarlane received mixed reviews for his provocative song and dance routines.
"What I really didn't like was the song and dance number about seeing actresses boobs," Oscar-winning actress Jane Fonda wrote after the 85th annual Academy Awards, "I agree with someone who said, if they want to stoop to that, why not list all the penises we've seen? Better yet, remember that this is a telecast seen around the world watched by families with their children and to many this is neither appropriate or funny."
The 2014 Oscars Ceremony will take place on 2 March at the Dolby Theatre in Hollywood.