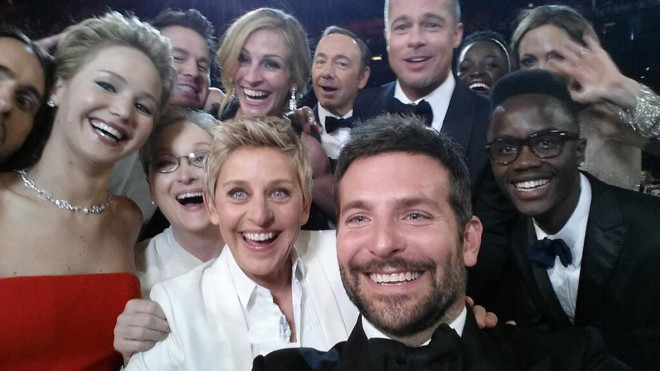 Oscars 2014 host Ellen DeGeneres is one of America's if not the world's favourite people, and it's easy to see why.
One of the most enduring actresses in showbiz, DeGeneres' career has spanned 36 years, and like a fine wine, she seems to only get better with age and her jokes never seem to get old.
Her signature observational humour, first showcased in TV sitcom Ellen, where she became the first openly lesbian actress to play an openly lesbian character on television, has propelled her to the top, and she also has several awards shows under her belt, including hosting gigs for the Emmy Awards, Grammy Awards and the Oscars in 2007.
So what keeps her jokes so fresh? Join us as we showcase the five reasons why Ellen DeGeneres is awesome:
1. She makes fun of people without making them feel bad
Poor old Jennifer Lawrence – she might be America's darling, but the girl is just a little bit clumsy. Not only did Lawrence trip in 2013 on live television on the way up the stairs at the stage to collect an award, but she also managed to trip over a cone last night while getting out of the car onto the Oscars red carpet. Not to worry, DeGeneres knows how to keep a secret.
2. She takes selfies (and breaks Twitter)
You've probably seen the infamous Oscar selfie that briefly crashed Twitter, thanks to over two million people retweeting DeGeneres' photo, but watching all the A-List celebrities run to get into the picture is even funnier.
The actress has a long tradition on her daytime talk show The Ellen DeGeneres Show of embracing social media and making amusing observations, making her one of the most technology-savvy of her generation of talk show hosts.
Say hello to Meryl Streep, Kevin Spacey, Jennifer Laurence, Julia Roberts, Bradley Cooper, Brad Pitt, Angelina Jolie and Lupia Nyong'o, and if that's not enough, take two features Chiwetel Ejiofor, Brad Pitt (again) and Benedict Cumberbatch.
If you like social media jokes, check out Ellen's Weekly Tweetly Roundup YouTube channel.
3. She orders pizza and bugs celebrities for money
Clearly, no party is complete without ordering some pizza, so that's exactly what Ellen does. Of course, Ellen hasn't got any money, so she starts hitting up the A-List celebrities in the audience for money and comparing their contributions to the number of Oscar nominations they have received. Even better, when the pizza arrives, she actually helps to give it out:
4. She lipsyncs like a pro and looks good in a tux
Okay, so singing is clearly not DeGerenes' thing, so there was no hope for a musical performance to rival that of Hugh Jackman, but at least she can lipsync like a pro, and carries off a tux really well.
5. She's not afraid to admit she's wrong
This has nothing to do with the Oscars, but if this ever happened on the show, you can bet that Ellen would be right behind it. Here she publicly apologises to Pamela Anderson on a new "I Was Wrong" segment for saying that Anderson wouldn't be able to finish the New York City Marathon in 2013.