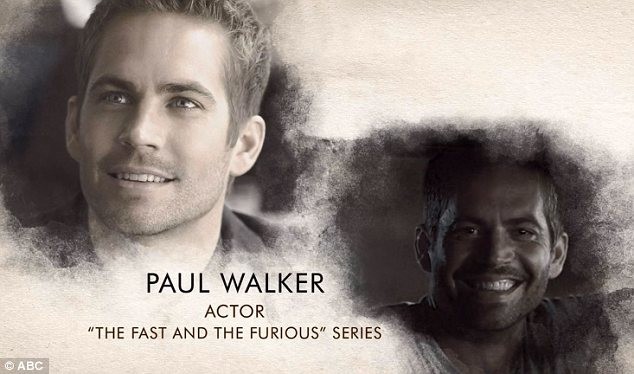 Hollywood's A-listers united in a touching tribute to Paul Walker and other stars who have passed away during the last 12 months during the Oscars ceremony.
Walker, James Gandolfini and Philip Seymour Hoffman were amongst the fallen actors who were honoured on the biggest night of the year.
The Memorian tribute segment was introduced by Glenn Close and included a montage of the actors in the various roles that made them household names.
"We love you, we honour you, we miss you, but most of all — we thank you," she said.
Walker, who died in a car crash in November, was best known as leading man Brian O'Conner in the Fast and Furious franchise. His tragic death rocked tinseltown and was mourned by fans.
Part of the segment was also devoted to award-winning Gandolfini, who skyrocketed to fame as mob boss Tony Soprano on HBO's hit show The Sopranos. He suffered a heart attack last June.
Hunger Games actor Hoffman, who died on 2 February from a drugs overdose, closed the emotional piece. The star was previously honoured at the Oscars when he received the Best Actor accolade for 2005 film Capote.
Hollywood icons of past generations including Lawrence of Arabia star Peter O'Toole and child actress Shirley Temple Black were also remembered by their peers, as were Elmore Leonard and the recently departed Sid Caesar.
Bette Midler guaranteed that there was not a dry eye in the house when she graced the stage to belt out a fitting rendition of Wind Beneath My Wings.