Starz's hit historical fiction series Outlander ended mid-season with a surprising twist - Jamie Fraser turning himself in to save Claire from Captain Black Jack Randall.
Outlander will return for the second half of Season 1 on April 4, 2015.
Spoilers for the second half of the Outlander series suggest that Jamie will be tortured and humiliated at the hands of Black Jack Randall in Wentworth Prison.
Also, Geillis Duncan will be burned for being a witch after she kills her husband with arsenic.
Executive producer Ron Moore told TVLine that shooting the culmination of Season 1 involved some "grueling, difficult scenes."
Jamie finds himself the prisoner of Black Jack Randall, who tortures and humiliates him in Wentworth Prison. "There were a lot of hours spent in that cell. There's a lot of rough stuff happening," Moore previewed.
"Just from the dailies, you can tell that it's pretty amazing. It's pretty intense stuff, and I think it's going to really surprise people." What about the herd of livestock that makes an appearance at a key point in the narrative? "We did wrangle some cows," Moore added.
Though Jamie's father, Brian Fraser, appeared for a millisecond in The Garrison Commander, he will be properly introduced in the second half of Season 1.
"There will be a flashback in a subsequent episode where we will revisit that episode at Fort William, and we'll identify Brian more clearly," Moore revealed.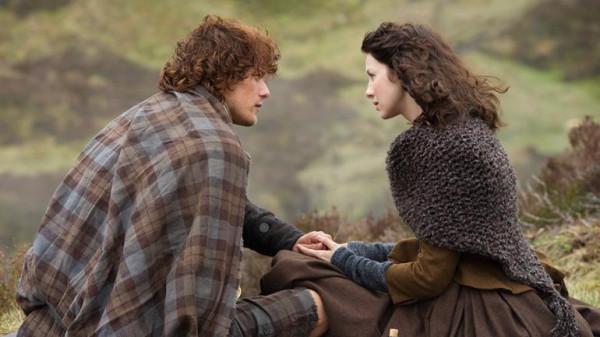 Showrunner Ronald D Moore also teased that there is a lot more to happen in the show, and appreciated the actors' efforts on the sets.
In an interview with Entertaiment Weekly Moore said, "We just got finished shooting those sequences. Some very brave actors and some emotionally and psychologically difficult material to deal with on set. It's such an important part of what the book is and what the story is about that there's really no way to shy away from it. It hasn't been edited together yet—we literally just finished shooting it."
When asked if there is any particular scene to watch out for when the series returns, he said, "The whole story once you get involved with Geillis and the witch trial—that's all really cool and exciting. It's just great to bring her back, and she's such a fun character, and it's really great to see her and Claire together. I'm really looking forward to people seeing that whole story."
Watch a short teaser on the upcoming episode.