Over one million people sign online petition to impeach Donald Trump
The 'Impeach Trump Now' petition appears to be taking off.
A petition calling for the impeachment of US president Donald Trump has amassed over 1.1 million signatures. Between failing to shake hands properly and being caught in the middle of an ongoing probe over alleged links to Russia, it's probably the last thing he needs right now.
The campaign, led by campaigning non-profit "Free Speech for People" and civil liberties collective "RootsAction", is asking Congress to pass a resolution calling for the House Committee to investigate if sufficient grounds exist for removing Trump from office.
On 26 May, the administrators of the petition announced it had reached 1,125,110 signatures.
"More than one million people all across the country have called for this impeachment investigation in light of the president's direct and ongoing violations of the anticorruption clauses of the constitution," John Bonifaz, president of Free Speech for People, told Democracy Now! on 24 May.
He continued: "His refusal to divest fully from his business interests placed him on a collision course with the constitution from the day he took the oath of office.
"But we have since expanded the grounds for our call for an impeachment investigation to include obstruction of justice, in light of the shocking revelations that the president fired the FBI director to try to stop a criminal investigation that may incriminate him as well as [campaign] associates.
"This is about our constitution. It's about our democracy. And we all need to stand up."
The petition, dubbed "Impeach Trump Now", has a number of high-profile members on its legal advisory board including former Justice of the Montana Supreme Court James Nelson, Harvard Law School professor Roy Furman and former Supreme Court judge Lawrence Lessig.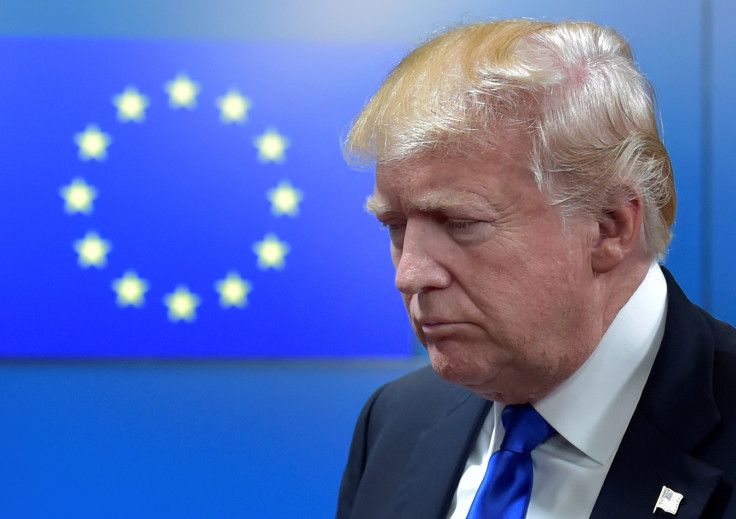 U.S. President Donald Trump reacts as walks with the President of the European Council Donald Tusk
Eric Vidal
According to the campaigning group, the US constitution gives impeachment powers to both the House of Representatives and the Senate. Under current laws, the grounds for impeachment are "treason, bribery, or other high crimes and misdemeanours."
US congressman Al Green has called for Trump's impeachment, saying: "There is a belief in this country that no-one is above the law, and that includes the President of the United States of America."
Other groups have voiced scepticism the process will ever be a realistic proposal.
On 17 May, the embattled president claimed there was no president in the history of America who had been treated "more unfairly" than him. His comments came amid revelations he was playing it fast and loose with classified secrets obtained from non-US intelligence sources.
Most recently, he was recorded manhandling the Prime Minister of Montenegro.
© Copyright IBTimes 2023. All rights reserved.