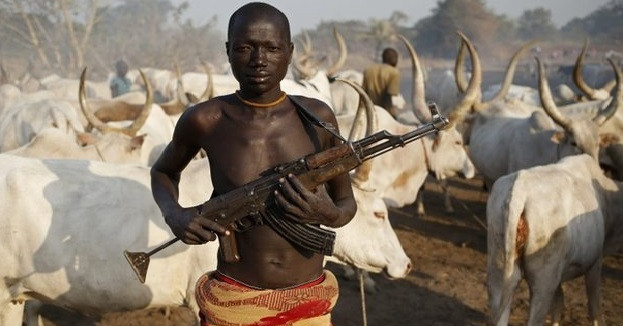 More than 100 people have died in South Sudan's Warrap State during a dispute over cattle.
The attack on a cattle herders' camp killed about 28 civilians, local Information minister Bol Dhel told the UN-backed Miraya FM radio.
Police and soldiers then chased the attackers, killing 85 people. "Some of them [the attackers] were recaptured on the swamp areas going to Unity State," Dhel told AFP.
"The attackers targeted cattle camps, trying to drive away the cattle while people were sleeping," Paul Dhel Gum, the acting minister of information and telecommunications said to Xinhua news agency.
"The fighting took place from Thursday till Friday when the attackers got the chance to run away with nothing in hand," he said, adding that the attackers were backed by men in military uniform believed to have come from neighbouring Unity state.
The governor of Warrap, Nyandeng Malek, condemned the "barbaric" act on innocent people, vowing to conduct a thorough investigation into the incident.
The country has been riven by a fierce civil war since December. Thousands have been killed and more than 1 million people have been forced to leave their homes.
The fighting is between soldiers loyal to President Salva Kiir against mutinous troops who sided with Riek Machar, who was deposed as vice-president in 2013.
The clashes have also taken on an ethnic aspect, with President Kiir's Dinka tribe against paramilitary forces from Machar's Nuer people.
However, it was not immediately clear if the cattle raid was connected to the ongoing conflict.
The cattle raid is a common phenomenon in South Sudan, where weapons are prevalent in dozens of tribes following the end of a 21-year-long civil war with Khartoum, which led to the independence of South Sudan from Sudan in 2011.
Cattle are a main source of wealth and pride for many communities. Many civilians are armed, and cattle are necessary as young men need them as dowries to get married.