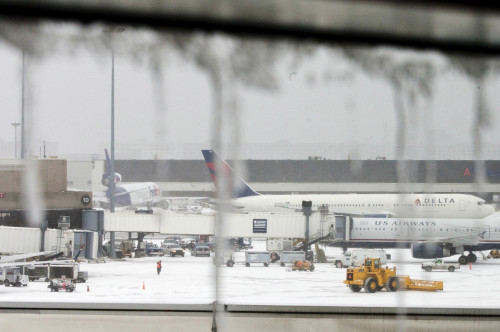 Over 2,000 flights have been cancelled and thousands more are being delayed as the US east coast faces more disruption due to snow.
Another winter storm is heading to the Midwest and Northeast of the US, with 12 inches of snow expected.
International flights from the UK are affected and passengers are advised to check their flights before travelling to parts of the US.
Heathrow Airport said: "Heavy snowfalls are affecting flights to some north east US cities including New York. Please check with your airline before travelling to the airport."
According to Weather.com, Winter Storm Janus will bring a short but disruptive bout of snow to those living in areas from Virginia to New England, with millions expected to be affected.
An area of low pressure will move southeast and then eastwards, intensifying as it moves to the Appalachians and Atlantic coast.
It said to expect "bitterly cold arctic air", with snow spreading into Washington DC and Philadelphia over Tuesday.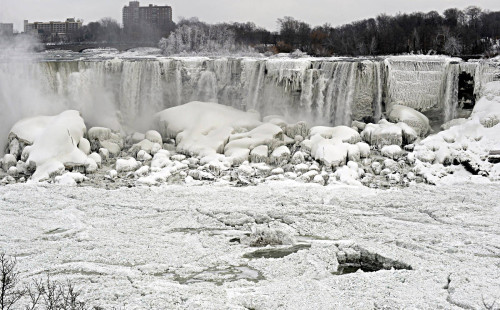 Other places that will be affected include Baltimore, New York, Delaware, Maryland and New Jersey.
"Blustery winds will add to the winter woes from this storm. Northerly winds of 15 to 30 mph will be common across the Mid-Atlantic and coastal Northeast with this storm," the website said.
"As temperatures fall ... the snow will become increasingly powdery – and increasingly easy to blow around. Blowing and drifting snow could complicate efforts to keep roads clear in some areas.
"Total snow accumulations will likely range from 6 to 12 inches ... Not only will temperatures plunge during Winter Storm Janus, but the cold air – and the snow on the ground – will stick around for a while, as highs stay below freezing across the entire Northeast for the rest of the workweek."
Forecaster AccuWeather also warned about travel conditions, with slippery roads and heavy snow expected.
Winter Storm Janus comes just as this area of the US had recovered from Winter Storm Hercules, which left parts of the country paralysed with ice and snow. The severity was due to the polar vortex – an arctic cyclone that forms around the North Pole.