Over 60% of Fifa's 6.9m Twitter followers are fake or inactive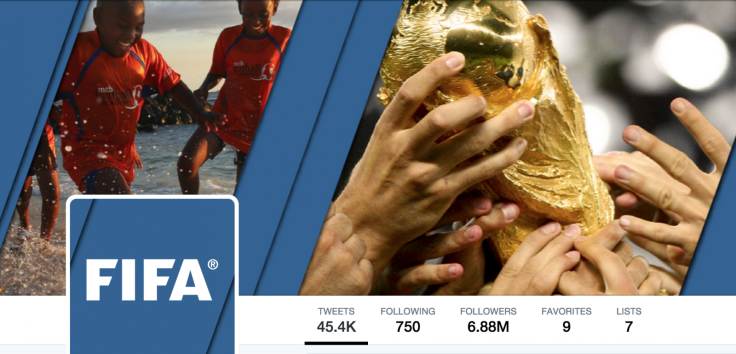 An investigation claims that over 60% of those following the official Twitter account of under-fire football association Fifa are either fake or inactive.
The report says that almost 550,000 of the 6.88 million followers the official Fifa account has on Twitter are fake while over half (3.7 million) are inactive. The report also discovered that over 60% of disgraced former Fifa president Sepp Blatter's Twitter followers were fake or inactive.
There are a number of possible reasons why Twitter accounts would have such a large proportion of fake or inactive Twitter accounts including the possibility that Fifa paid to boost its following.
It is relatively easy to purchased Twitter followers in the 10s, 100s or even 1000s on third party websites offering an instant boost of "quality followers". Another possibility is the practice of spammers and marketeers following influential accounts en masse, hoping to be followed in return.
Pointless metrics
The investigation was carried out by UK-based digital marketing company Elrelo, whose founder Robert Illidge says that the act of purchasing fake accounts as a way of artificially inflating your follower count is a bad move:
"Purchasing Twitter followers is an all too easy process that offers little more than brand vanity, appearing to be connected with more 'fans' than in reality. Fake accounts do not engage with a brand; resulting in low engagement scores, pointless metrics and misleading demographic data. Regular engagement with genuine supporters forms part of a successful social media campaign; building influence, communities and improves the reach of conversations."
Illidge told IBTimes UK that it was impossible to tell if Fifa had purchased fake followers or if it was the result of spammers.
IBTimes UK has contacted Fifa for a comment but at the time of publication we have not had a reply.
Back in 2013 it was revealed that just 20% of Barack Obama's 36.5 million Twitter followers were real people.
Fifa's reputation has been dragged through the gutter with a series of high profile corruptions scandals following investigations on both sides of the Atlantic which ultimately led to the resignation of long-time president Sepp Blatter.
Indeed the report also found that 62% of Blatter's own followers on Twitter (2.68 million) were either fake or inactive.
The details of Fifa's and Blatter's Twitter followers were uncovered using a tool developed by Status People, a company specialising in identifying fake accounts. The company's definition of a fake account is "one that has few or no followers, has little activity and yet follows a massive number of accounts".
© Copyright IBTimes 2023. All rights reserved.