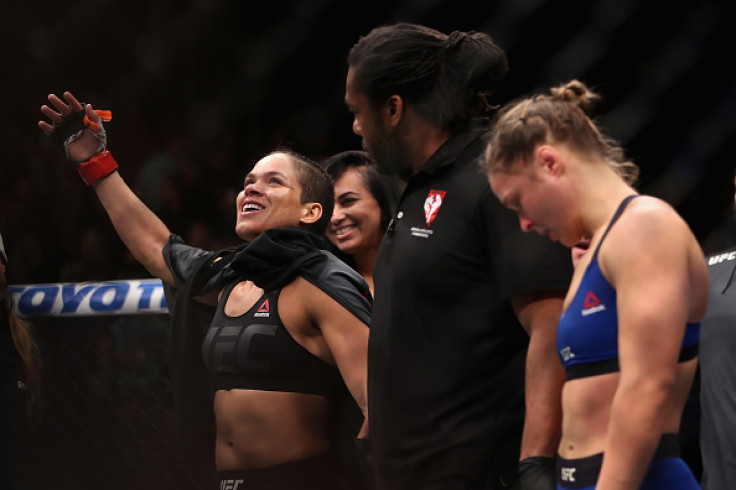 Amanda Nunes has questioned Ronda Rousey's credibility as a fighter and believes she is "overrated". The Ultimate Fighting Championship (UFC) women's bantamweight champion was speaking following her 48-second TKO (punches) win over Rousey at UFC 207 on 30 December in Las Vegas when she defended her title.
"Rowdy" as the California-born fighter is commonly known as was making her comeback after more than a year out, but failed to live up to expectations when her title fight was called off by the referee just 48 seconds into the first round. Rousey had lost her title to Holly Holm in November 2015 and was keen to reclaim it in her first fight-back.
Nunes, however, was in no mood to give it back as she went on the assault from the start. The Brazilian fighter had made it clear when the fight was announced that she has all the tools necessary to see off the longest reigning former bantamweight champion. She has now revealed that she was confident about beating Rousey, after watching the American in her first fight.
The 28-year-old Salvador native beat Miesha Tate to win the title in July and admitted she trained harder for that fight than for the recent clash against Rousey.
"I don't understand how Ronda Rousey went so far in this division," Nunes said during a video chat on TMZ, as quoted by the Daily News.
"I don't understand how those girls lost to Ronda Rousey," the Brazilian added referencing to the American's previous wins in UFC.
Rousey's future in UFC has been called into question following her recent loss. Dana White made it clear that he will support the fallen former champion's next move, while her coach Edmond Tarverdyan refused to speculate saying: "It's all good, no plans made yet," when asked about her future, as quoted on bloodyelbow.com