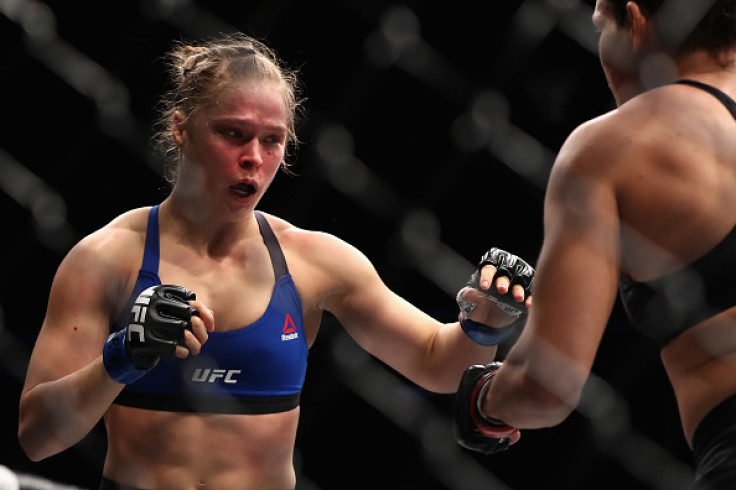 UFC president Dana White has revealed that he consoled Ronda Rousey following her defeat at the hands of Amanda Nunes on 30 December. The American fighter had a chance to reclaim the women's bantamweight title, but she failed to achieve it after the Brazilian plastered her in 48 seconds at the main event at UFC 207.
Prior to the fight against the Brazilian, the 29-year-old lost her first career fight to Holly Holm at UFC 193 in November 2015. Rousey made a return to the octagon for the first time in over a year and that lasted for less than a minute as Nunes defended her title.
The defeat to Nunes was her second career loss. White revealed the "Rowdy" was in better spirits on 30 December than she was when she lost the title to Holm in 2015. The UFC boss even admitted that he consoled her backstage for 45 minutes after the fight.
"I went backstage after and hung out with her for probably 40-45 minutes. I'll tell you this: She's in better spirits this time than she was after the Holly fight. She's very competitive. She does not like to lose. She loves to win, and she loves to do what she sets out to do," White explained, as quoted by MMA Junkie.
Rousey's mother AnnMaria De Mars has advised her daughter to retire from the sport. It is still unsure as to what her next move might be. White was quick to hail the UFC star for her achievements.
"(It) wasn't her night, and none of this would be here without Ronda Rousey. Ronda Rousey built this. She talked me into letting women come into the UFC, and it was the smartest thing I've ever done. Regardless of whether she comes back, she doesn't come back – she's a winner. She built this whole thing," he added.