Jeremy Corbyn's Labour leadership must come to an end if he fails to win more seats or increase the party's vote share at the general election, prominent author and journalist Owen Jones has told IBTimes UK.
While on the campaign trail in the London seat of Tooting, Jones said the "precedent is very clear" for Corbyn's future.
"If he doesn't make any progress in the election, then of course [he should go]," Jones said.
Lord Neil Kinnock was able to stay on as Labour leader after he lost the 1987 general election partly because of the progress he had made.
Ed Miliband, who lost 26 seats and saw David Cameron secure a majority for the Conservatives, quit after the 2015 general election.
But Jones, who admits that "huge odds" are stacked against Labour, wants to avoid "self-fulfilling prophesies" and take the fight to the Tories.
"The leadership has to show that it has a vision that can inspire people, not just people that have joined the Labour Party full of enthusiasm, but the people out there who have better things to do than talk about politics," he said.
"The key point for me now is to save the post-mortem until after the exit poll. When the exit poll happens, then we have an open and frank discussion on what happens to Labour and its leadership."
Social media 'fire power'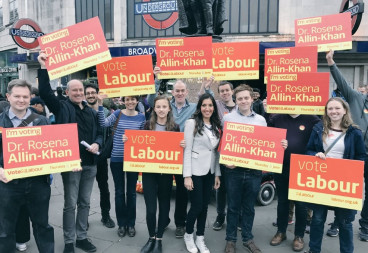 Jones is using social media "fire power" – he has 250,000 "likes" on Facebook and more than 540,000 followers on Twitter – to mobilise Labour activists across the UK.
The left-winger has also set up a crowdfunding page on CrowdPac, founded by former Cameron aide Steve Hilton, to "stop a Tory landslide".
Jones is planning to give the money to Labour MPs, such as Lancaster and Fleetwood's Cat Smith, who are defending slim majorities against the Conservatives.
"The only way to keep seats like [Tooting] Labour, to make progress in the election, is to mobilise the party because we hear over and over again that it's one of the biggest political parties in Europe," he said. "Labour is uniquely placed to have a great get out the vote campaign."
However, one of the biggest problems for the party is Brexit. Labour backed Remain, but many seats in its heartland, such as in the West Midlands, voted to leave the EU on 23 June 2016. Now, with a general election just under a year later on 8 June, the party is still split on the issue.
Dr Rosena Allin-Khan, who succeeded Sadiq Khan as the Labour MP for Tooting after a by-election last June, is putting her pro-EU credentials at the front and centre of her re-election campaign by highlighting that she defied Corbyn's three-line-whip and voted against triggering Article 50 of the Lisbon Treaty.
"I promised to be that strong local voice for Tooting and I delivered on that. Tooting and Wandsworth itself voted overwhelmingly [75%] to remain [in the EU] and I had to take a tough decision, but I did what I said I would do for Tooting – I put them first and voted against triggering Article 50 twice," she told IBTimes UK.
Allin-Khan is using that record to defend a majority of more than 6,300 votes against the Conservatives at the election.
But with Theresa May promising to deliver a Brexit, Labour nationally are 13 points behind the Tories (44% versus 31%), according to the latest YouGov poll published on 30 April. Corbyn, in Jones' words, is facing a post-mortem come 8 June.