A draft report seen by press agency AP reveals the Pacific bluefin tuna population has drastically been reduced in the past years. Stocks have dropped by 97% from their historic level in 1960, according to the International Scientific Committee for Tuna and Tuna-like Species in the North Pacific Ocean (ISC). Bluefin tuna is well-known because the fish is used as delicacy in the preparation of sushis and sashimi. About 80% of all bluefin tuna caught worldwide is consumed in Asia.
The latest scientific assessment − which has yet to be officially published and will be reviewed in July − reveals the extent of damage associated with overfishing the precious tuna.
It points out that in 2014, the population was estimated at 26,000 tons. Now, it has gone down to 17,000 tons in just two years. The current population of bluefin tuna is also estimated at 2.6% of its "unfished size" − the size it would grow to if it had never been fished.
Furthermore, if overfishing continues at the same rate in the Pacific Ocean, the likelihood of rebuilding stocks to sustainable levels is only 0.1%, AP quotes the report as saying.
The risks of overfishing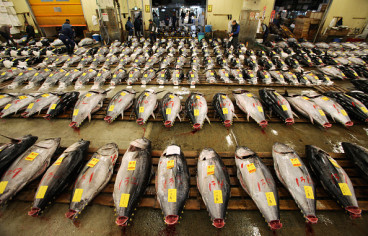 The IUCN Red list of threatened species currently defines the Pacific bluefin tuna as "vulnerable", which means it faces a high risk of extinction in the wild in the medium-term future. Its Atlantic bluefin cousin is considered "endangered", meaning the risk of extinction is very high in the near future.
The problem is bluefin tuna often sells at very high prices, providing extra incentives for fishermen to catch them.
In January 2016, Sushi Zanmai, a Japanese restaurant chain paid $117,000 (about£81,300) for a 222kg fish, at an annual auction. In 2013, a single bluefin was sold for a record price of over $736,000 (£500,000).
Up to now, the international community has struggled to come up with common measures to protect bluefin tunas. The European Council announced at the beginning of this April that an agreement had been reached to implement a recovery plan for Bluefin tuna in the eastern Atlantic and the Mediterranean.