Anti-government protesters were fired on with heavy tear gas by security forces as they marched towards the Parliament House and Pakistan Prime Minister Nawaz Sharif's official residence on Saturday (30 August).
Seven people are dead and 294 injured, most of them women and children, the Express Tribune confirmed.
As Pakistan Tehreek-i-Insaf (PTI) and Pakistan Awami Tehreek (PAT) supporters marched towards the PM's official residence and broke down the gates of the Parliament House using a truck, government leaders continued to order arrests of all the injured people being brought into hospitals for treatment.
Doctors across the capital have also been ordered not to officially comment on the number injured, reported ARY News.
Thousands of protesters, led by the opposition politician Imran Khan and the cleric Muhammad Tahir-ul Qadri, have been camped out on the streets of Islamabad for more than two weeks in a bid to force Sharif to resign.
Sharif came to power in a landslide election victory just 15 months ago. He said the demands are "unacceptable" and "unconstitutional."
Scarce Blood and Blocked Roads
So far, 124 people are being treated at the Polyclinic hospital, while 170 are being treated at PIMS hospital in Islamabad, including at least 15 women and six children, with some media outlets reporting the death of seven additional female protesters.
Critics on ARY News said that the attacks on women and children were planned so the men could be deterred from marching ahead and progressing the Azadi (Freedom) March through the Red Zone.
Hospitals are running out of blood to cure the injured and television outlets are calling on people to approach the hospitals.
Yet, most of the roads leading to Islamabad city and the Parliament House have been blocked by security forces, further adding to the calamity of the injured who are also being told to leave the hospitals to prevent being arrested.
Government Stands Still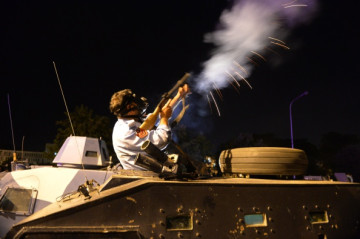 Meanwhile, government officials, including Pakistan PM Sharif remained firm today (30 August) despite the scores of injured women and children mocking the concept of a 'democracy' by questioning why women participated in the protests in the first place.
"The government has a limit as well. No one forced women and children to take part in the protests, they joined in willingly. You live by sword, you die by sword. We were forced to take action. We had no choice but to use force," said Defence Minister, Khawaja Asif in retaliation.
Behind the Tear Gas and Bloodshed
Two helicopters have also reportedly flown from Islamabad to Lahore carrying gold and other valuables from PM Nawaz Sharif's house.
Several political party leaders across Pakistan have condemned the violent crackdown by the security forces.
Former President @AAliZardari strongly condemns the police crackdown in #Islamabad #Pakistan

— PPP (@MediaCellPPP) August 30, 2014
I am appalled to witness the attack by the Government on unarmed and peaceful protestors that include women and... http://t.co/guHqVLCFoJ — Pervez Musharraf (@P_Musharraf) August 30, 2014
The bullet shell and tear gas cell just fired on Azadi Bus. pic.twitter.com/e1zeu4DuN1

— Imran Khan (@ImranKhanPTI) August 30, 2014
On top of the Container with my ppl as tear gas fired directly at us. Cowardly action by govt. pic.twitter.com/h8fpMmqkOS — Imran Khan (@ImranKhanPTI) August 30, 2014
Karachi-based political party, Muttahida Quami Movement (MQM)'s leader, Altaf Hussain, has announced a day of mourning in Karachi tomorrow (31 August), and asked PM Sharif to voluntarily resign.