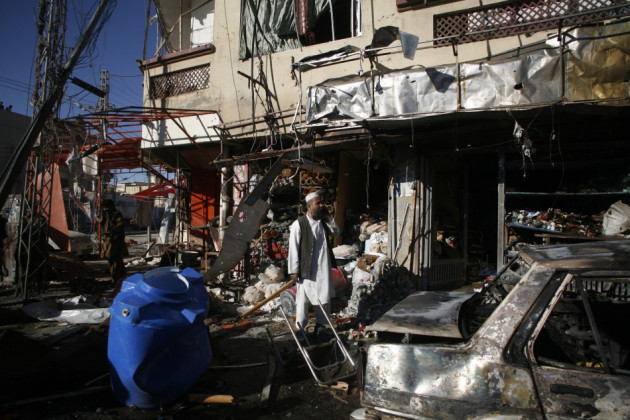 A series of sectarian bomb attacks in Pakistan have killed at least 30 people and left dozens more injured.
The Pakistani wing of the Taliban has already claimed responsibility for the attacks, which targeted Shia Muslims as well as law enforcement officers.
In Rawalpindi, a suicide bomber exploded on the fringe of a Shia Muslim gathering for the festival of Muharram, killing at least 22 civilians. Scores of others including several children were also injured.
The bomber tried to join the procession with another person, but was initially intercepted by security officials. After evading the security personnel, the bomber detonated his explosives.
"Two unknown people, who did not appear to be mourners, barged in the procession and one of them blew himself up," an eyewitness told Geo TV.
The strong blast also damaged nearby houses and could reportedly be heard several miles away. It left a small crater and scores of limbs were seen scattered around the impact zone.
"There was chaos, the injured lying over a vast area as everybody screaming with pain and calling for help. There was nobody to help me as my brother Ishtiaq Hussain Shah who suffered serious injuries was also lying on the road," one of the victims, Bagh Hussain Shah, told Pakistani daily Dawn.
Nationwide attacks
Earlier, two bombs had exploded outside a mosque in Karachi, leaving two people dead. The first bomb appeared to be a suicide attack, according to police.
The bombs exploded just minutes apart, and it is reported that the second attack injured several emergency services officials tending the wounded from the first.
Meanwhile, in Quetta, a roadside bomb planted on a motorcycle exploded in front of an army vehicle, which was escorting children home from school.
At least six people are reported to have been killed in the attack, including three soldiers and a woman, while 22 were injured. However none of the school children was hurt.
In the Shangla district of Khyber Pakhtunkhwa, a roadside bomb exploded next to a police vehicle. One of the officers was killed while three more sustained injuries in the attack.
Speaking to Rediff.com, Taliban spokesperson Ihsanullah Ihsan said his organisation was responsible for the attacks. Explaining the Shangla incident, he said: "We are against the secular system and secular leadership of this country. These policemen are protecting them, so they are on our target list. We will continue targeting policemen till the government's policies are changed."
Ihsan attempted to justify the Rawalpindi attack by saying: "People belonging to the Shia community are infidel and blasphemous and we will not spare them. We pay homage to those Taliban who sacrificed their lives in Wednesday's attacks. You will see further attacks in the coming days."
"If the interior minister increases security, then there would be more suicide attacks," Ihsan added. "No one can stop our fidayeen (suicide bombers)."