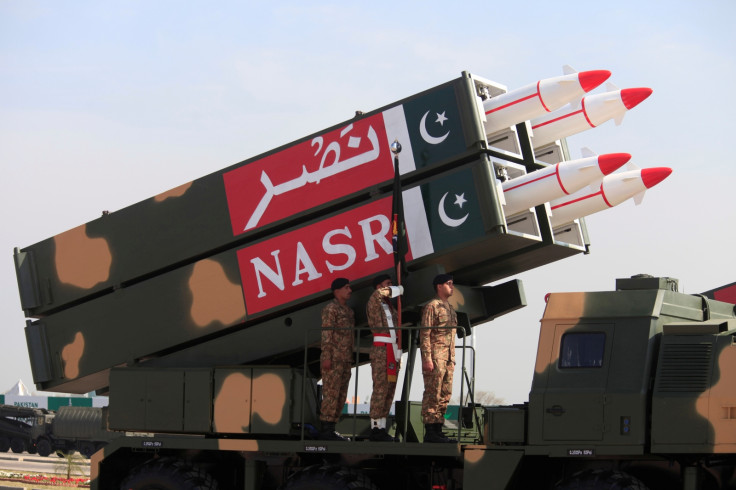 Pakistani military celebrated the country's 77th national day with pomp and grandeur on Thursday (23 March) and pledged to wipe out terrorism and bring in political stability in the Islamic nation.
The armed forces showcased the country's military might at the Parade Ground near Shakarparian hills in Islamabad. The parade was organised by joint staff headquarters in Rawalpindi that supervises the three armed forces of Pakistan.
Forces from China, Saudi Arabia, and Turkey also took part in the parade highlighting Pakistan's increasing desire to boost its ties with various countries in the wake of the rapidly changing global political environment. Chief of National Defence Forces of South Africa, General Solly Zacharia, was a special guest at the ceremony.
In a sharp message to mark the ongoing tensions with neighbouring India, the Pakistani President Mamnoon Hussain said in his address: "We are a peaceful nation but India with its aggressive attitude has jeopardised the environment. We are open to dialogue with India on all the disputes including Kashmir." He added that Pakistan's nuclear and conventional capabilities are meant for regional peace and not for offensive purposes.
Hussain insisted that Kashmir remains an "unfinished agenda of the subcontinent's partition".
The Pakistan Day is traditionally celebrated to mark the 1940 Lahore Resolution, when a separate nation for the Muslims of The British Indian Empire was demanded.
The event was attended by the top military and civilian leaderships including Prime Minister Nawaz Sharif and Chief of Army Staff Gen Qamar Javed Bajwa.