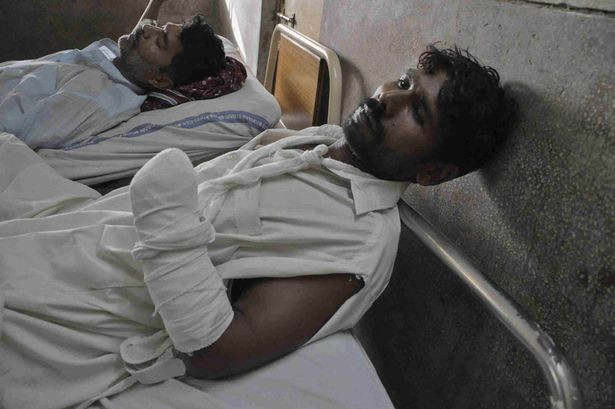 Doctors in Pakistan have re-attached a man's hand after it was chopped off by police when they arrested him for allegedly stealing electrical cables, officials have said.
Ghulam Mustafa, 38, was accused of stealing cables together with another man, Liaquat Ali, 42, in the Vehari District of southern Punjab.
Police also chopped off also Ali's hand but doctors were unable to perform the same procedure.
"The doctors have re-joined the hand of one of the accused at the government-run Bahawalpur Victoria Hospital, as his skin was still intact and his hand was clinging to him though his wrist bone," Sadiq Ali Gujjar, a local police official said.
Mustafa told Reuters: "Four or five policemen held me down and cut my hand. I fainted from the pain.
"I and Liaquat were arrested eight days ago after local people falsely accused us of stealing and handed us over to the police who beat us and tortured us. Then on Friday, they did this."
The police said they were investigating two officials over the incident and had suspended five others including the station's chief.
However, regional police spokeswoman Nabeela Ghazanfar denied the police had chopped off the hands.
She said: "They were caught stealing and were thrashed by locals but finally rescued by police and admitted to hospital.
"Mustafa's wife and a couple of other females came to meet them at hospital and gave them food, clothes and shaving blades. They used the blades to cut their wrists."
Amputation of hands is the punishment for theft under sharia law in Pakistan. If the theft is aggravated by homicide, the culprits are sentenced to death.
Hina Jilani, a Supreme Court lawyer and rights activist, told AFP the incident was indicative of a growing trend of religiously motivated vigilantism.
"The incident shows that this society is drifting fast towards barbarism.
"When the state machinery is habitual of giving inhumane penalties and taking the law into its own hands, then the notion of rule of law exists no more," she added.