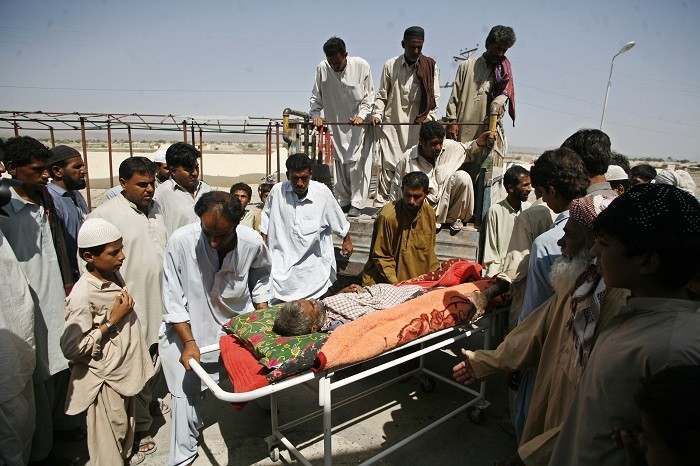 A powerful new earthquake has struck southwestern Pakistan, an area already trying to recover from a quake that killed more than 300 people.
The 6.8 magnitude earthquake struck in Balochistan province on Saturday 28 September, about 96 kilometres (60 miles) northeast of Awaran, the United States Geological Survey said.
Abdul Rasheed Baloch, the Deputy Commissioner of the Awaran district told CNN that seven people died when a house collapsed in Mashkay Tehsil as result of the new earthquake.
On Tuesday 24 September, a 7.7 magnitude earthquake struck the same area of Pakistan. The death toll in that quake has risen to 366 people and another 765 are injured.
Authorities estimate that 21,000 houses were destroyed in the earth tremors.
However, Rasheed Baloch said that more than 60 mud-walled buildings had collapsed in the Nok Jo area of the district. Four bodies have been found in the rubble, he said, but they appear to be casualties of Tuesday's quake.
Baloch said a rescue operation was under way in the Awaran district to retrieve the dead bodies and shift the injured to hospitals.
The rescue operation is hampered by the remoteness of the area and damaged communications network.
"The telephone system has been damaged and we are not able to talk to someone and find out the exact information about the losses... but we have reports of severe losses in that area," he told Associated Press.
There are also reports that rescue teams fear attacks by Baloch separatists in these troubled areas, according to the deputy commissioner.
The separatists are blamed for firing two rockets at a military helicopter transporting the chairman of the National Disaster Management Authority, Maj. Gen. Muhammad Saeed Aleem, and another general to the earthquake.
Both survived the attack, said Jan Buledi, spokesman for the government of Balochistan. The disbanded Baloch Liberation Front reportedly claimed responsibility for the attack.
Militants fighting for a separate state in Balochistan operate out of part of Awaran district, which has been the site of bombings.
Tremors were also felt on Saturday in Kech district, Khuzdar, Kalat and other towns of Balochistan province.