Pakistan has reacted strongly to India's claims that Islamabad was behind the attack on an administrative unit of the army near its brigade headquarters in Kashmir. Pakistani authorities say their Indian counterparts are drumming up global opinion against Pakistan to cover up the ongoing unrest in Indian-administered Kashmir.
A day after India directly blamed Islamabad for its involvement in the extremist attack, which killed 18 Indian soldiers, Pakistani Prime Minister Nawaz Sharif's top aide Sartaj Aziz called India's accusations "baseless" and "irresponsible".
"It is a blatant attempt on India's part to deflect attention from the fast deteriorating humanitarian and human rights situation in Indian Kashmir since the death of Burhan Wani," said the senior adviser on Pakistan's foreign affairs.
Four militants, reportedly belonging to the Pakistani-based Islamist group Jaish-e-Mohammed, sneaked into the Indian military unit in Kashmir's Uri region on Sunday (18 September) sparking a major attack, said to be the worst in the valley in the past 17 years.
All of the attackers were killed by Indian security forces not before they claimed the lives of troops. Hours after the attack, India's Home Minister Rajnath Singh called "Pakistan is terrorist state" and accused it of involvement in the incident.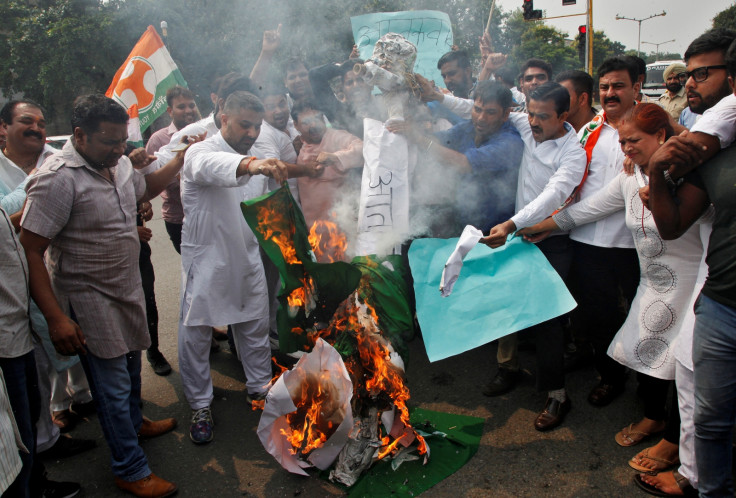 Meanwhile, Indian Prime Minister Narendra Modi held a high-level security meeting on Monday (19 September) in which Singh, Defence Minister Manohar Parrikar, Army Chief General Dalbir Singh Suhag and senior officials participated. Modi was briefed on the security situation in Kashmir but the outcome of the discussions is yet to be made public.
Diplomatic sources told broadcaster NDTV that the Indian government has decided to orchestrate a calculated response isolating Pakistan in global forums. India is also expected to raise the matter in its upcoming UN General Assembly address.
Responding to Pakistan's rejection of New Delhi's allegations, India's junior minister for home affairs Kiren Rijju was cited as saying: "Whether Pakistan accepts or denies doesn't really matter. We should not pay any attention to what Pakistan says."