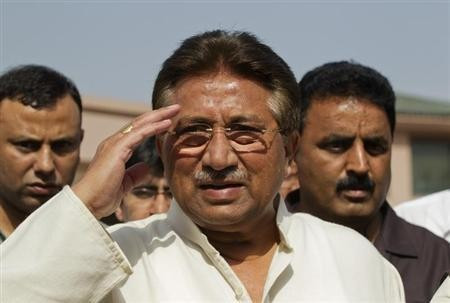 Pakistan's former president Pervez Musharraf, under house arrest for a number of charges, has arrived at special court for a treason trial.
Musharraf had previously avoided court hearings, but this time he risked a non-bailable warrant for failing to attend the hearing.
He arrived at the court in a bullet-proof car with a 12-vehicle cavalcade in tow surrounded by pilot vehicles, an ambulance and a fire engine.
About 1,200 policemen, anti-terrorist squad personnel and commandos were on duty while over 400 personnel were deployed at the court premises.
He could possibly be charged with treason for imposing an emergency while he was the president, which is punishable with the death penalty or life imprisonment, along with other criminal charges including murder of former prime minister Benazir Bhutto in 2007.
The 70-year-old General-turned-president is Pakistan's first military dictator to be put on trial for treason.
Facing an imminent trial, or arrest, he had sought permission from the court last month to travel abroad for medical treatment, but his plea was turned down.
Anwar Mansoor, one of Musharraf's senior lawyers, told the Dawn that the ex-General's team has declined to comment on his health condition.
"Musharraf will address the court in a furious tone and will present the facts about the circumstances in which he decided to impose emergency with consultation of political and military leadership," Mansoor said.
However, the court had given him a verbal assurance that he would not be charged with treason on his first appearance as the court has yet to decide the question of its jurisdiction.
Musharraf's legal team also believes that he will not be charged with treason at the first hearing, as he can seek adjournment until the decision on the court's jurisdiction is finalised.
Khalid Ranjha, another member of Musharraf's team, will try to transfer his treason case to a military court.
The trial is perceived as a high point in the struggle between civilian rule and the military for political dominance in the country.
Musharraf has indicated that the charges against him are politically motivated, and that the ruling Prime Minister Nawaz Sharif is settling previous accounts with him.
Sharif was the prime minister from 1997 to 1999, when his government was toppled by then General Musharraf in a military coup.