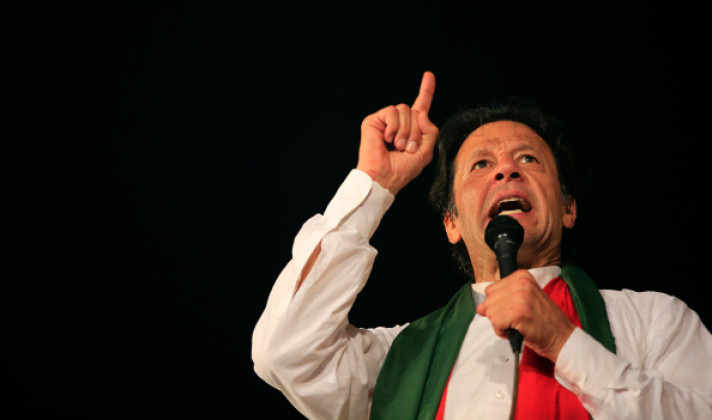 As the 14th day nears end since Pakistan Tehreek-i-Insaf (PTI) and Pakistan Awami Tehreek (PAT) protesters took to the streets demanding Prime Minister Nawaz Shareef to step down, Pakistani cricketer-turned politician and PTI chairman, Imran Khan has predicted that a final decision will be made by tomorrow (28 August), Express Tribune reported.
PTI Spokesperson, Faisal Javed Khan, shared the news on Twitter, along with Khan.
Nawaz Sharif likely to resign within next 24 hrs.

— Faisal Javed Khan (@FaisalJavedKhan) August 27, 2014
I have a gut instinct 2day is going 2 be final round & I want my tigers, tigresses & all r workers,wherever they may be,2 arrive in D Chowk. — Imran Khan (@ImranKhanPTI) August 27, 2014
14 days ago Azadi March began & I Salute all r ppl who r as fresh and passionate today as when we started r journey for Naya Pakistan.

— Imran Khan (@ImranKhanPTI) August 27, 2014
PAT Chairman, Dr Tahir-ul-Qadri, has also confirmed that tomorrow (28 August) will be the final showdown. "Talks with government have failed. Today [28 August] will be the day of Revolution. No need to send any minister for negotiations now ... a decision will be made, and the people will make that decision," said Qadri.
Government delegation will come back by 9:30 pm after consulting PM. If they do not come, we are free to give our next course of action. — Dr Tahir-ul-Qadri (@TahirulQadri) August 27, 2014
Qadri has demanded legal action against those accused over the Lahore massacre near his headquarters.The deadly clashes between police and PAT supporters in June 2014 resulted in the deaths of 14 PAT supporters, including two women. Over 100 people were also reportedly injured on the day.
We demand immediate registration of FIR against 21 accused of #ModelTownMassacre #NoReturnUntilRevolution

— Dr Tahir-ul-Qadri (@TahirulQadri) August 26, 2014
The Azadi (freedom) March began on 14 August, Pakistan's Independence Day, with a mission for Naya (new) Pakistan, free of corruption. Khan had kick-started the March saying: "The entire Pakistan knows that the general elections were rigged," before warning the government to verify the voting count or else a Tsunami March will take over Pakistan.
Wishing all Pakistanis a happy Independence Day. Today we embark on our Azadi March to bring true democracy & Naya Pakistan. — Imran Khan (@ImranKhanPTI) August 13, 2014
Karachi-based political party, Muttahida Quami Movement (MQM)'s leader, Altaf Hussain has also confirmed that if the just demands of PAT are unmet, he will stand together with PAT.
"We think all the constitutional demands of Qadri should be accepted, says governor Sindh," said Hussain.
Both Imran Khan and Dr. Qadri have called off all further negotiations with the government today (27 August) until Prime Minister Nawaz Sharif resigns.
"The government has offered to make me deputy prime minister. No more talks till PM resigns," concluded Khan today (27 August).