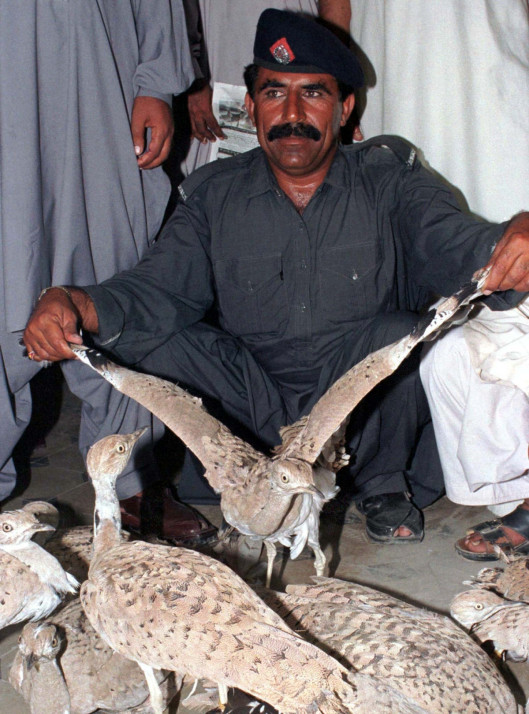 A Saudi Arabian prince has reportedly hunted and killed up to 2000 near-extinct houbara bustard birds in a three-week hunting safari holiday in Pakistan.
Prince Fahd bin Sultan allegedly killed the birds while his party aide's hunted around 123 in 21 days in Chagai, Balochistan, the Dawn newspaper has reported.
The news came after a report submitted by a forest officer detailing the Saudi Prince's hunting safari trip from 11 to 31 January 2014.
The bustards are internationally protected under the Convention on International Trade in Endangered Species but Pakistan's federal government issued special permits to the Arab prince granting him permission to kill up to100 houbara bustards in 10 days, except in reserved and protected areas.
But the prince reportedly violated the permit and entered the protected areas to hunt and kill birds.
Houbara bustards usually migrate from Central Asia to Pakistan and India during the winter. India banned the hunting of the bustards in 1979.
Pakistan has already issued 33 houbara bustards hunting permits this year while the global count of the birds is decreasing by 30 percent every year, the Daily Mail reported.
The Pakistani government has historically made their hunting laws more flexible for the Arab sheikhs, mostly because they bring large quantities of money into the financially crunched country. But the killing of the bustards has enraged environmental activists across Pakistan.
"Is there any more ridiculous reason to kill an animal? If it's illegal for Pakistanis to kill these birds why should the Arab sheikhs be allowed to do it?" an activist who appealed the Lahore high court to ban the hunting of the near-extinct bird, told The Guardian.