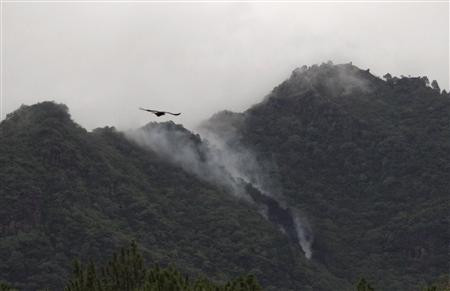 Airblue flight ED202 has crashed in the Pakistani Hills just days after a number of flights from Benazir Bhutto airport - where the flight was heading too - was cancelled due to poor visibility in the fog. It is unknown why the plane crashed.
Anjum Rahman, a journalist for the Express 24/7 said she saw the plane 'flying low' towards the hills a few minutes before the crash occured - "I wondered why the plane wasn't flying higher as it was flying towards the hill. Then within three or four minutes I heard a loud explosion."
The plane came down near the capital where it was heading too in a region known as the Margalla Hills where Saqlain Altaf was having a family outing. "The plane had lost balance, and then we saw it going down." he told the news channels.
"Our hearts go out to the families and loved ones of the passengers and crew." said Airblue in a statement on their website as it emerged that all of the 152 passengers had died.
An investigation into what caused it will now go on after a search for survivors and the airplane's black box goes on after the plane which crashed, the Airbus A321 has been involved in accidents before, most notably the Hudson river crash last year.
Airblue spokesman Raheel Ahmed said the crash was "an extremely tragic incident".