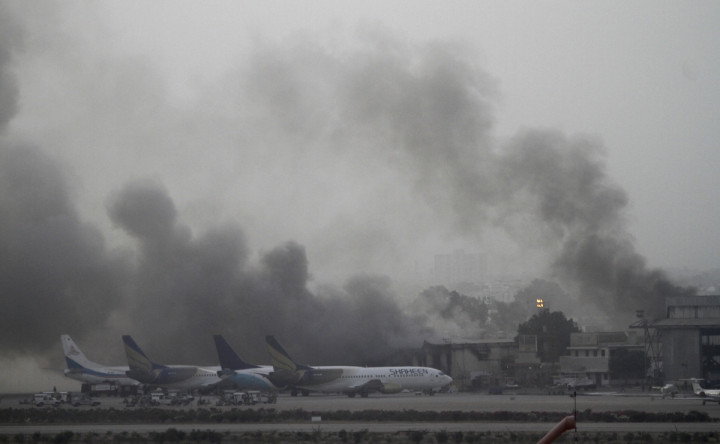 Pakistani security forces have renewed their operation at the Jinnah International Airport in Karachi hours after declaring the midnight siege claimed by Tehreek-e-Taliban, which left at least 23 people dead, was over.
Citing security forces, the Pakistani media reported at least three terrorists were still inside the airport and that fresh firing was heard.
Pakistan's Geo TV said terror outfit Tehreek-e-Taliban, which is fighting to establish a hardline Islamist rule in Pakistan, took responsibility for the attack.
Reports also said grenades were used in the attack that started around midnight and that security personnel recovered weapons including rocket launchers, petrol bombs and hand grenades from the scene of the attack.
A statement from the prime minister's office said earlier the militants used a cargo terminal to gain access to the airport shortly before midnight.
Reuters said at least 23 people were killed in the attack, including all of ten militants.
Following a five-hour-long counter terrorism operation the army had said by around dawn that the airport was cleared of the attackers and the siege had ended.
"Area cleared. No damage to aircraft; fire visible in pictures was not plane but a building, now extinguished. All vital assets intact," Major General Asim Bajwa said.
Pakistani authorities put in place a red alert for the Benazir Bhutto International Airport in Islamabad and the Allama Iqbal International Airport in Lahore and tightened security across the country.
Hafiz Saeed, the head of the Jamaat-ud-Dawa organisation and founder of Lashkar e-Taiba, said India was behind the attack.
Saeed, who India alleges is the mastermind behind the 26/11 attacks on Mumbai, said in a series of tweets that Prime Minister Narendra Modi's "new security team" was responsible for the airport attack.
"#KarachiAirport is an attack on Pakistan. Modi's new security team is behind this act of war by India. Nation knows the real enemy," Saeed tweeted.
Meanwhile, the Pakistani media reported, citing officials in the elite troops, Rangers, that all attackers were of Uzbek nationality.