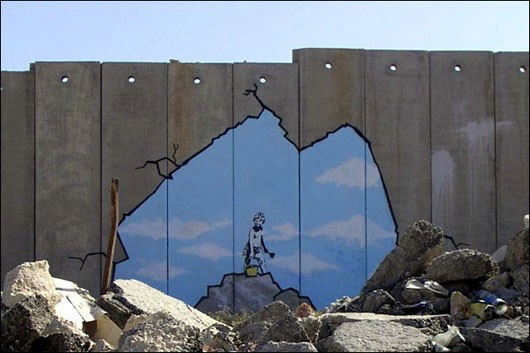 Palestinian activists on Tuesday are planning to board segregated Israeli buses from the West Bank to occupied East Jerusalem in an act of "civil disobedience" they say is inspired by the U.S. civil rights movement of the 1960s.
"Fifty years after the U.S. Freedom Riders staged mixed-race bus rides through the roads of the segregated American South, Palestinian Freedom Riders will be asserting their right for liberty and dignity by disrupting the military regime of the Occupation through peaceful civil disobedience," said a statement earlier this month.
"The Freedom Riders seek to highlight Israel's attempts to illegally sever occupied East Jerusalem from the rest of the West Bank, and the apartheid system that Israel has imposed on Palestinians in the occupied territories," it added.
The planned protest has spawned a following on social networking site Twitter, with the hashtag #FreedomRides attracting attention from around the world.
The Institute for Middle East Understanding (IMEU) is planning an online press briefing later on Tuesday to cover the activists' progress.
"Contained in this Palestinian Freedom Rides is the question of the violence of the occupation," said Bill Fletcher Jr., senior scholar with the Institute for Policy Studies in Washington D.C.
"One aspect of this violence has been the denial of the right of freedom of movement for the Palestinians and, implicitly, the threat to them if and when they challenge the privileges of the settler population. For this reason we should see in the Palestinian Freedom Rides not simply a protest over the denial of rights, but an action taken to raise the consciousness of the world to the violence under which Palestinians live each and every day," he added.
While it isn't officially forbidden for Palestinians to use Israeli public transportation in the West Bank, these lines are effectively segregated, since many of them pass through Jewish-only settlements--to which Palestinian entry is prohibited by a military decree.
Even Palestinian movement within the Occupied territories is severely restricted, with specific permits being needed to access parts of East Jerusalem and the West Bank.
Arutz Sheva, an Israeli news provider, has called the action a "PA (Palestinian Authority) gimmick," and hit back against the activists accusations against Israel of being an "apartheid state."
"In truth, Egged public buses operating in Judea and Samaria stop at Jewish communities," said an article on Arutz Sheva's Web site. "Israeli citizens, whether Arab, Bedouin or Jewish, are allowed to board after security checks".
Requests for comment from the Israel Defence Forces (IDF) hasn't yet received a response. An IDF spokesperson told the IBTimes they're preparing a statement on the matter and will distribute it shortly.