The Palestinian teacher winner of the Varkey Foundation Global Teacher Prize opened the London Stock Exchange on 29 November, celebrating and honouring the value of education.
Hanan Al Hroub received the prize in March for her work in educating traumatised children in Palestine. She first developed a "play and learn" technique to help her own children deal with the trauma of witnessing a family member shot and injured while driving them home from school.
The technique encourages teachers to create an environment that frees the children and their imagination from trauma, removing aggression and promoting dialogue and co-operation. It has spread throughout Palestine.
"I strongly believe education is the investment that gives the greatest dividends of all", Hroub said at the event, part of a six-day trip throughout the UK. The teacher, who grew up in a refugee camp in Bethlehem, is using her role as ambassador to highlight the importance of educating refugee children.
Hroub's opening of the London Stock Exchange fell on the International Day of Solidarity with the Palestinian people, an official UN event that aims to focus the international community's attention on the rights Palestinian people have yet to attain, such as the right to self-determination without external interference, the right to national independence and sovereignty and the right to return to their homes and property from which they had been displaced.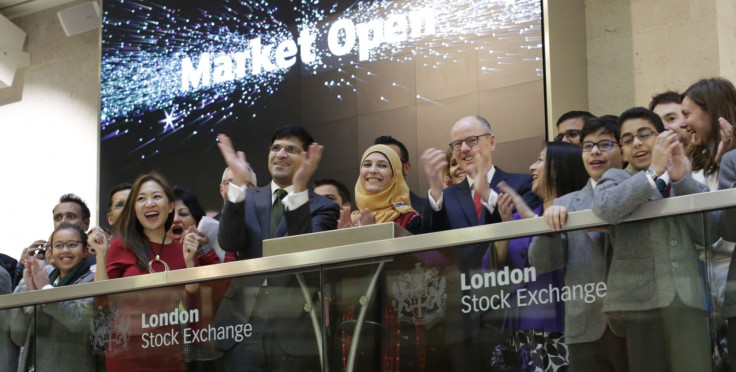 A spokesman for the London Stock Exchange told IBTimes UK the choice of the day was coincidental. "I'd love to say we planned it exactly like that, but it was more of a coincidence," he said.
The date of 29 November marks the anniversary of the 1947 Resolution 181 (II), known as the Partition Resolution, which provides the grounds for a two-state solution. "Of the two states to be created under this resolution, only one, Israel, has so far come into being," notes the UN, adding: "The Palestinian people, who now number more than eight million, live primarily in the Palestinian territory occupied by Israel since 1967, including East Jerusalem; in Israel; in neighbouring Arab States; and in refugee camps in the region."
Israel continues to issue new planning permissions for settlements in occupied territories, despite this being illegal under international law. It recently targeted a Bedouin village in the West Bank for demolition. On 24 November, France became the first country to enact European Union guidelines allowing for Israeli products imported from East Jerusalem, the West Bank and Golan Heights to be marked as arriving from an Israeli settlement.
Messages of solidarity poured on social media from various sources. Jan Egeland, UN chair of the task force for humanitarian access in Syria, wrote on Twitter: "We stand with the Palestine people today and call for the full lifting of Israel's blockade, peace talks on political solution and an end aid dependence in Gaza."