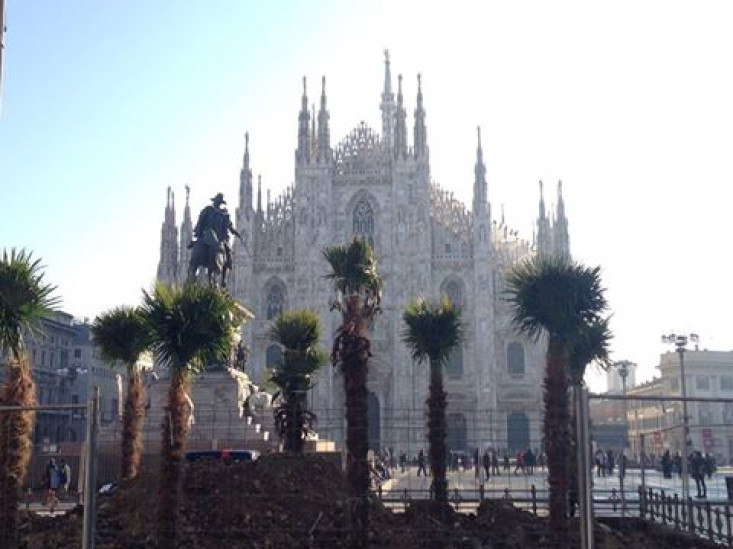 Italian police are investigating an arson incident that saw three palms recently planted in Milan's Piazza Duomo, "Duomo square", being set alight at the weekend. Local security forces are examining images and videos of the burning palms, in a bid to identify the culprits.
Forty-two palms and banana trees are being planted in the city's main square, close to the iconic Milan Cathedral known as "Duomo", as part of a green initiative sponsored by Starbucks.
The multinational coffee chain is about to open its first store in Milan, in a former post office in the area known as Cordusio. The company announced it will open around 300 shops across Italy within the next five to six years.
A spokesperson for the local police has not replied to request for a comment on the arson attack. News agency Ansa said the incident did not require the intervention of fire fighters.
"Last night, someone tried to burn some palms, damaging at least one," Pierfrancesco Maran, Milan council member for city planning, green and agriculture, was quoted as saying.
"It was a vile gesture and security forces are working to identify the culprits. Imbeciles always lose and Milan people will get more attached to the palms. Meanwhile, curious tourists keep taking photographs of the palms," he continued.
The decision to plant the palms and banana trees was met with outrage by some Italians – including politicians – who claimed the trees would clash with the "traditional values" of the city. The mayor of Milan, Beppe Sala, said he was not enthusiastic about the project, but he added it was the result of a competition and thus had to be respected.
However, some politicians went as far as to claim the palms and banana trees were the result of Milan giving in to "African culture".
"Palms and banana trees in Piazza Duomo? Folly. We just miss sand and camels and then illegal migrants will feel at home," said Matteo Salvini, leader of the Lega Nord "North League" political party, in a Tweet posted on 15 February.
Furthermore, members of his party took to the streets of Milan to protest the green initiative. Demonstrators held inflatable palms and banners reading: "No to Africanisation of Piazza Duomo." Some also handed bananas to passers-by.