Four people were injured but no one was gored in the first bull run of the San Fermin festival in Pamplona. More than a thousand thrill-seekers tested their agility and courage by racing alongside fighting bulls through the streets of this northern Spanish city. Three people sustained head injuries while another suffered an arm injury, according to Doctor Manuel Montesino of the Navarra Hospital.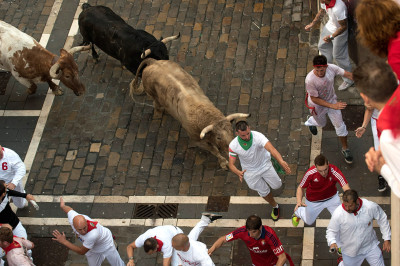 Participants run with six bulls and six accompanying oxen down a narrow 930-yard (850-metre) course from a holding pen to Pamplona's bull ring. The bulls then face matadors and almost certain death in bullfights in the afternoon.
Thursday's run, along rain-slicked cobblestoned streets, lasted two minutes, 28 seconds. Many people suffered falls and were trampled on by the beasts or other runners. In one incident, four bulls crashed into a bunch of participants close to the end of the race, and several people narrowly missed being gored.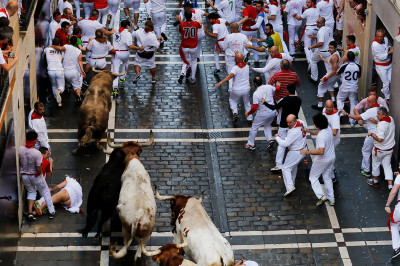 The nine-day festival became world famous with Ernest Hemingway's 1926 novel The Sun Also Rises and is now one of Spain's most important tourist events. Ten people were gored in last year's festival. In all, 15 people have died from gorings in the San Fermin festival since record-keeping began in 1924.
The festival started on Wednesday (6 July) with the traditional midday launching of a firework rocket – known as the "Chupinazo" – from Pamplona's town hall balcony, followed by a street party that went on until the morning light.