Prime Minister David Cameron has said that he will publish six years worth of tax return information, following revelations into financial affairs implicated by the recent Panama Papers scandal, admitting he "could have handled it better".
Allegations about Cameron's financial affairs come following a leak of 11 million documents this month held by Panamanian law firm Mossack Fonseca. The documents – collectively dubbed the Panama Papers – claimed that Cameron's father, Ian, had been a client of Mossack Fonseca when establishing a fund for investors.
Addressing the Conservative Party Spring Forum, Cameron admitted that "it had not been a great week" following the alleged reports of his father's offshore tax fund, adding, "I know that I should have handled this better, I could have handled this better."
On Thursday, 7 April, the PM said he had sold his shares before he entered Number 10 and had paid all UK taxes due on profits from the £30,000 sale.
According to the BBC, Cameron said in his speech: "I know there are lessons to learn and I will learn them. Don't blame Number 10 Downing Street or nameless advisers, blame me.
"I was obviously very angry about what people were saying about my dad. I loved my dad, I miss him every day," he followed. "
"He was a wonderful father and I'm very proud of everything he did. But I mustn't let that cloud the picture. The facts are these: I bought shares in a unit trust, shares that are like any other sorts of shares and I paid taxes on them in exactly the same way.
"I sold those shares. In fact, I sold all the shares that I owned, on becoming prime minister. "And later on I will be publishing the information that goes into my tax return, not just for this year but the years gone past because I want to be completely open and transparent about these things.
"I will be the first prime minister, the first leader of a major political party, to do that and I think it is the right thing to do."
Panama Papers protests
Following calls earlier in the week for Cameron to "resign immediately" after the allegations, thousands of people are gathered outside the gates to Downing Street in Whitehall today, demanding Cameron's resignation as Britain's prime minister.
Demonstrators also marched on the Conservative Spring Forum, which was being held in a supposedly secret location in Covent Garden.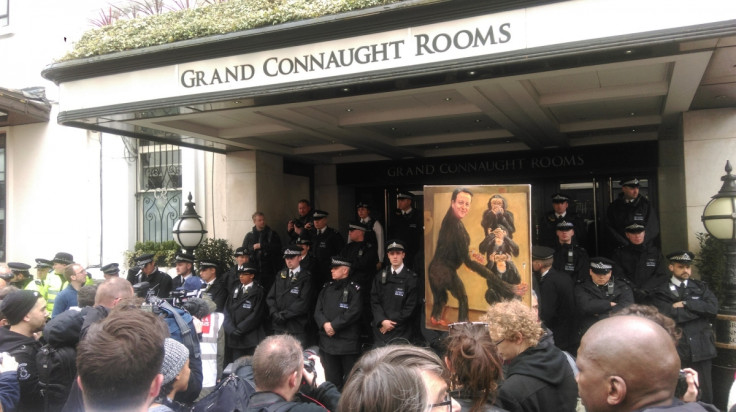 Abi Wilkinson
, who organised the protests using social media over three days, said she was inspired by from recent demonstrations in Iceland, after the country's PM was mentioned in the Panama Papers. The protests forced Prime Minister Sigmundur Davíð Gunnlaugsson to
resign on 5 April
.
Mossack Fonseca director Ramon Fonseca has denied any wrongdoing. He said the firm had suffered a hack on its database and described the leak as "an international campaign against privacy", according to Reuters.
All of those implicated in the Panama Papers report have been afforded the opportunity to respond. Visit the International Consortium of Investigative Journalists (ICJI) website to read the responses.