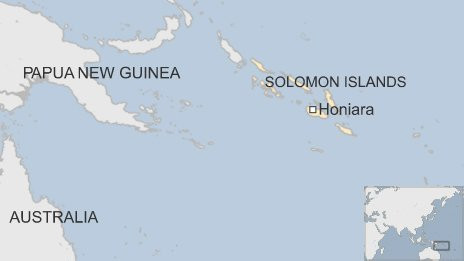 A powerful earthquake of magnitude 7.4 has hit Papua New Guinea triggering a tsunami alert in the South Pacific island nation.
No tsunami alert has been issued for New Zealand. The strong quake struck the southern coast of Papua New Guinea while the tsunami warning has been issued for a 300-km area surrounding the epicentre.
The US Geological Survey has downgraded the magnitude of the tremor to 7.4 from the original 7.5 in its latest update. The quake struck about 140kms south of the town of Kokopo in north-eastern Papua New Guinea at a depth of 10kms.
An aftershock of magnitude 5.9 was triggered following the major earthquake, the USGS reports. According to the Pacific Tsunami Warning Center, waves as high as one metre could batter the region.
"Hazardous tsunami waves from this earthquake are possible within 300kms of the epicentre along the coasts of Papua New Guinea."
Chris McKee, assistant director of Geophysical Observatory in Papua New Guinea, said: "The earthquake is offshore and the nearby land areas are fairly sparsely populated. We're just sending a message now to the area for villages along the coast to take extra precautions in case a tsunami is generated."
Papua New Guinea is often hit by earthquakes. It is one of the most active areas in seismic terms in the world, owing to high rates of friction between the Australian and Pacific plates.