Newcastle United manager Alan Pardew has been assured of his future at St James' Park despite finishing 16th in the Premier League this season but is expected to achieve a top half finish next term.
After finishing fifth and qualifying for the Europa League in the 2011/12 season, The Toon were embroiled in a relegation battle for much of the campaign, only assuring survival in the top flight on the penultimate weekend of the season with victory against Queens Park Rangers.
Pardew spent close to £18m on six players in the January transfer window, but despite Newcastle reaching the quarter final of the Europa League, the additions made little difference to the club's league form.
Speculation has mounted that despite Pardew having signed an eight-year contract last September, that Newcastle's dramatic fall in fortunes would lead to his removal as manager this summer.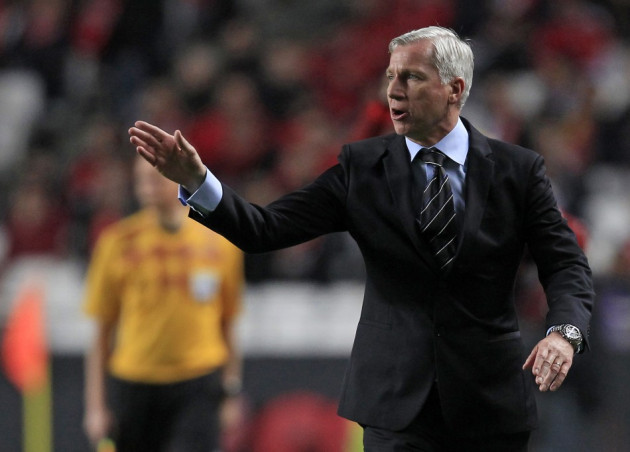 But manager director Derek Llambias has handed Pardew a vote of confidence ahead of the summer transfer window, but warns only a top half finish will fulfil the club's expectations.
"Everyone connected with the Club was disappointed to finish where we did last season, particularly on the back of such a fantastic year prior to that," Llambias said.
"Our discussions on Wednesday were very constructive and we pinpointed a number of factors that contributed to a season which fell below expectations.
"We are now looking forward and are entirely focussed on the forthcoming campaign, with the expectation of at least a top-ten finish in the Premier League.
"There has been a great deal of speculation in recent weeks but our desire, as we announced back in September, is to bring long-term stability to this Club. It's up to us all now to work closely as a team to ensure next season sees us competing in the top half of the table again.
"We would all like to thank the fans for their continued support and assure them we remain committed to providing affordable football at St. James' Park."
Newcastle finished on 41 points from their 38 league games, two points above arch local rivals Sunderland, their second lowest points total of their Premier League existence.