Shocking details have emerged of the 'House of Horror' in California in which a couple is accused of torturing and starving their 13 children.
David Turpin, 56, and his wife Louise, 49, would keep the children up all night until 5am so they would sleep all day in order not to arouse suspicion about the abuse, the Riverside District Attorney's Office said. The couple has appeared in court and pleaded not guilty to charges of torture, false imprisonment and neglect.
District attorney Michael Hestrin said the couple would put food on the worktops such as pumpkin pie for the children to look at but not be able to eat. They were beaten regularly and occasionally strangled and they had planned an escape for two years.
The parents would chain their children up with padlocks after one child had tried an escape before.
The only thing the children were allowed to do was keep a diary, hundreds of which have been taken by police and are being analysed. District attorney Michael Hestrin told a press conference that the children are in hospital and "relieved".
A clearer picture of the lives of the incarcerated children is emerging. It transpired that one of the older boys was allowed to attend a community college, but his mother would take him there, wait and accompany him home.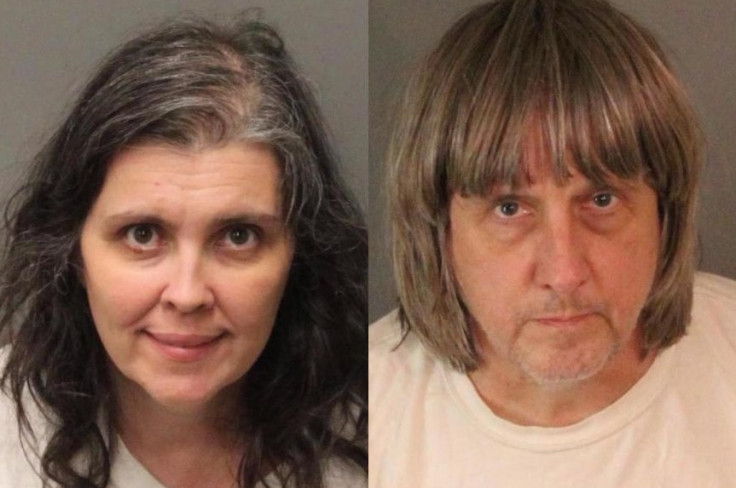 They were also only allowed to bathe once a year, and would be beaten up if they washed themselves above the wrist. The eldest child who was 29, weighed only 82 pounds (37kg).
"All of the victims have now been examined by doctors and medical specialists. All were and are severely malnourished, specifically caloric malnutrition associated with muscle wastage.
"Several have cognitive impairment and neuropathy which is the result of extreme and prolonged physical abuse. None have seen a doctor in more than four years, none have ever seen a dentist," an emotional Hestrin said.
Each parent has been charged with 12 counts of torture, 12 counts of false imprisonment, six counts of neglect and seven counts of abuse against a dependent adult. The father faces a charge of a lewd act on a child under 14. Their bail has been set at $13m (£9.4m).