Seven offensives, including two suicide attacks, shootings and a bombing in the French capital have left at least 120 people dead in multiple assaults across Paris. Police stormed the Bataclan Concert Hall, which saw the worst bloodshed, after some 100 hostages were killed. The violence, which appears to be coordinated, started on 13 November and is the worst to hit Paris since World War II. Police are yet to make any arrests.
The police operation at the Bataclan is now over and 100 people are reported to have been killed by attackers. Police have said that four officials died as they battled to retake Bataclan. The circumstances surrounding the hostage deaths are uncertain, but one witness told Sky News that victims were shot "one by one". The Associated Press (AP) cited one unnamed police official as saying that assailants threw explosives at the hostages and described the situation as "carnage". French President Francois Hollande said the terrorists holding the hostages at the Bataclan have been killed. The Paris prosecutor said that five attackers across the city "may be" dead.
Hollande called the terrorist attacks "unprecedented" and has declared a state of emergency in all of France. All French borders will be closed in an effort to prevent the attackers from fleeing. An emergency meeting has been called and 1,500 soldiers have been deployed around Paris. A curfew has been imposed for the first time since 1944 and people have been urged to remain at home. Airlines, flights and trains are continuing to operate. Eurostar has said that services will run on 14 November.
"We know where these attacks come from," Hollande said, without naming a specific group. The president has also vowed to wage a "pitiless" war.
"To all those who have seen these awful things, I want to say we are going to lead a war which will be pitiless," said Hollande. "Because when terrorists are capable of committing such atrocities they must be certain that they are facing a determined France, a united France, a France that is together and does not let itself be moved, even if today we express infinite sorrow."
The hashtag #portouverte was trending on Twitter, with Parisians opening their doors to people who wanted to avoid the metro. France 24 reported that Parisian taxi drivers switched off their meters, and were taking people home for free. People are updating their safety status on Facebook through its safety check tool which allows users to inform their loved ones that they are out of harm's way.
A shooting at a Cambodian restaurant in Paris' 10 arrondissement had resulted in a number of bodies lying on the ground after a gunman took aim at customers, witnesses said.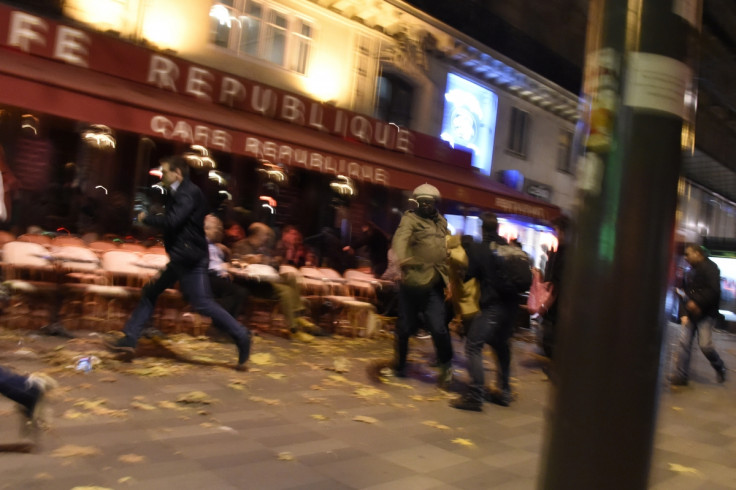 French police have confirmed two suicide attacks and a bombing near the Stade de France in Paris, where France were hosting Germany. At least three people were killed near the entrance of a McDonalds.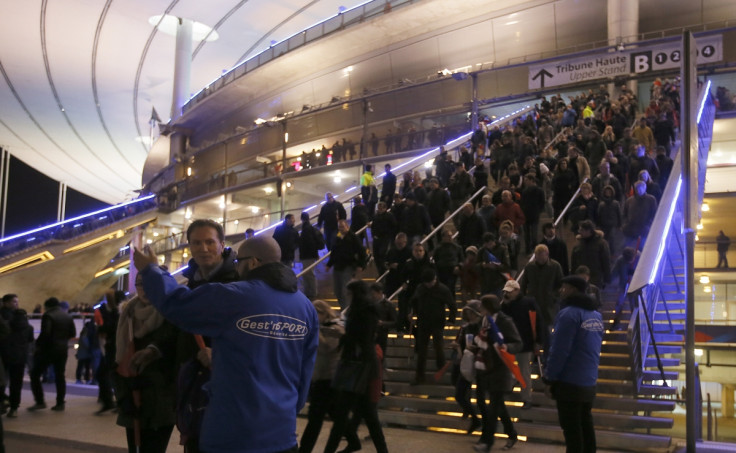 Two people also opened fire at the Le Carillon bar not too far away from the Cambodian restaurant. The situation is fluid and details surrounding the incidents are still emerging. It remains unclear who is behind the attacks. Attackers are said to have used AK-47 automatic weapons.
Eyewitness Ben Grant was at a bar with his wife when shots were fired. He told the BBC: "I was told people in cars had opened fire on the bar. There are lots of dead people. It's pretty horrific to be honest. I was at the back of the bar. I couldn't see anything. I heard gunshots. People dropped to the ground. We put a table over our heads to protect us. We were held up in the bar because there was a pile of bodies in front of us."
People concerned about British friends or relatives can contact 0207 0081 500 for assistance, the Foreign Office has said.