Paris attacks: Eagles of Death Metal singer describes Bataclan dressing room slaughter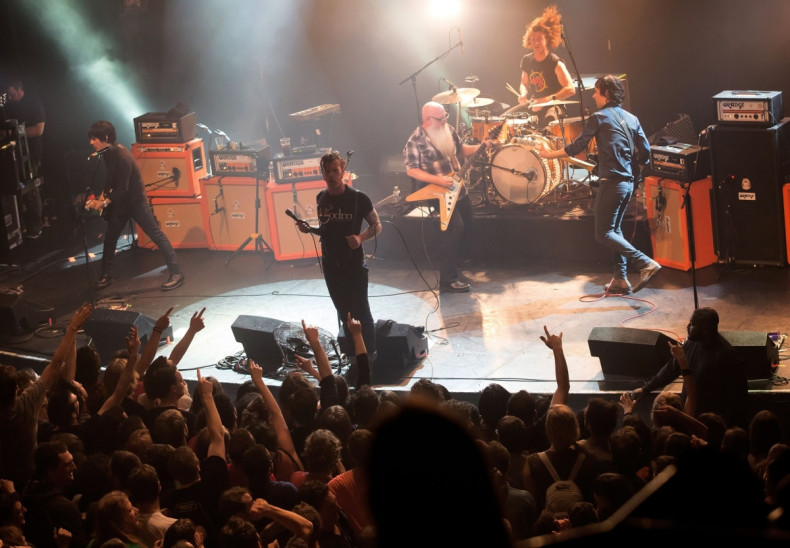 The lead singer of Eagles of Death Metal has described how gunmen shot dead fans who hid in the band's dressing room during the Bataclan hostage situation. Jesse Hughes and his band members were on stage in Paris when terrorists from Islamic State (Isis) stormed the venue and began shooting people.
In an interview with Vice, Hughes said that several fans had hid in the band's dressing room, but that only one had survived by hiding under the singer's leather jacket. His voice broke as he described the scene.
Hughes said: "Several people hid in our dressing room and the killers were able to get in and killed every one of them. Except for a kid who was hiding under my leather jacket."
The Bataclan concert hall was one of the scenes where brutal terrorist attacks took place in the French capital on 13 November. The Bataclan suffered the most fatalities out of all the attacks that evening, with 89 people at the concert dying. More than 100 people were believed to have been injured during the hostage situation.
One Briton, Nick Alexander, was among those murdered. The 36-year-old was selling merchandise for the band at the venue when attackers began shooting people before blowing themselves up.
"People were playing dead and they were so scared," said singer Hughes. "A great reason why so many were killed is because so many people wouldn't leave their friends."
David Cameron is due to outline the UK's strategy for tackling Islamic State, including plans for military action in Syria. Many countries in Europe have been on increased alert, with Brussels going into a lockdown on Saturday, 21 November. Shopping malls and public transport systems were shut down as the terror alert level was raised to "severe and immediate", the highest possible alert. The threat comes as the only surviving terrorist of the Paris attacks, Salah Abdeslam, is believed to be on the run in Belgium.