The Duke and the Duchess of Cambridge have signed a book of condolence to express their solidarity for the victims of the Paris attacks. The royal couple wrote a message in the book at the French embassy in London signing off with a note in French.
"To all those who have died and were injured in the heartless attacks in Paris, and to all the people in France: nos plus sincères condoléances (our deepest condolences)," wrote Prince William, which was then signed by him and his wife.
Prince William and Kate Middleton were joined by High Commissioner Gordon Campbell and parliamentarian Nicky Morgan who also signed the condolence book. This was one of the several ways the royal family has shown solidarity with the French people following the terrorist attacks in Paris on 13 November.
The Duke of Cambridge also attended the friendly football match between England and France at Wembley Stadium on 17 November, along with Prime Minister David Cameron. Prince William laid a wreath on the pitch in tribute to the victims of the Paris attacks.
Roy Hodgson, The Duke Of Cambridge and Didier Deschamps lay floral tributes on the Wembley pitch prior to kick-off pic.twitter.com/hwUUsM34Eu

— Wembley Stadium (@wembleystadium) November 17, 2015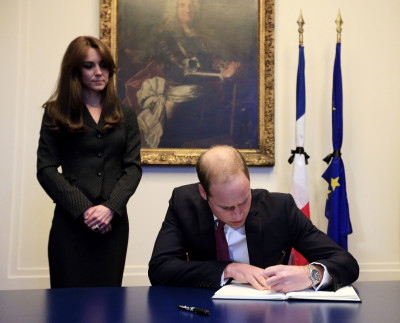 The Queen had sent her condolences to France a day after the attacks. "Prince Philip and I have been deeply shocked and saddened by the terrible loss of life in Paris," Her Majesty the Queen said in the wake of the Paris attacks. "We send our most sincere condolences to you, the families of those who have died and the French people."
A minute's silence was also observed at Buckingham Palace to remember the victims.