The alleged Islamist mentor of the Kouachi brothers who killed 12 people in the Paris Charlie Hebdo attack has condemned the massacre, saying that "Islam deplores all that was done without exception".
Farid Benyettou, who now works as a trainee nurse in the accident and emergency unit of Pitié-Salpêtrière hospital where the satirical magazine's wounded were taken after the assault, issued a firm criticism of the former "spiritual disciples" in an interview with i-Tele channel.
"I'm here to say that all of this should not be attributed to Islam," he said. "If you are murderers, that's your business, do not believe that Islam will legitimise your actions - on the contrary."
Benyettou, 33, is a French national of Algerian descent who came to prominence at the height of the Iraq War as he toured the mosques of Paris to deliver sermons against the US occupation. In his keffiyeh headscarf and thick-rimmed glasses, he urged French Muslims to fight in Iraq against the Americans, which some duly did.
A 2005 article in the LA Times tells the story of a Jewish woman and her Muslim boyfriend, who was radicalised by Benyettou in Paris after attending his Islamic "study group".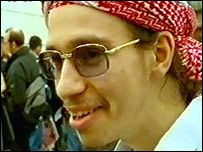 The Islamist preacher operated in the 19th arrondissement of Paris as leader of the Buttes-Chaumont terror cell that recruited jihadists for the Iraqi branch of al-Qaeda.
The Kouachi brothers and Amedy Coulibaly, the gunman who killed a policewoman in Paris's Montrouge and then four Jewish shoppers in a Hyper Cacher supermarket in Porte de Vincennes, were also part of the group.
French police swooped and arrested those members of the cell who were still in the country on terror-related charges, including Cherif Kouachi who was detained at a Paris airport as he was about to board a flight to Syria.
Benyettou was jailed in 2008 along with Kouachi. The latter got three years in prison though he only served 18 months with the rest on a suspended sentence. Benyettou got out in 2011 and started training as a nurse.
He was described as a "studious and discreet trainee" by his colleagues.
"Coward and monstrous"
After the Paris massacre, the former "spiritual leader" sought to distance himself from the "coward and monstrous" murders of journalists, police officers and Jews.
He also revealed that Cherif Kouachi paid him an impromptu visit two months before the massacre.
"With him, it was always the same subject of conversation. He always wanted to talk to me about the fight," said Benyettou. "He didn't know things such as the good relationship with neighbours, the behaviour of a good Muslim.
"He wanted to talk about the Merah affaire [Toulouse gunman who shot dead seven people in 2012] and I told him that I was against. He seemed to accept the criticism. Nothing could predict those acts..."
Benyettou said he voluntarily showed up to the General directorate of internal security (DGSI) to explain that he had nothing to do with the Paris carnage.
"Some people think that France is oppressing Muslims. I am living proof of the opposite. I have a criminal record which is difficult to accept. I've been sentenced for terrorism - the worst of criminal records. Despite that, I've never been discriminated against. On the contrary, I've been helped. People keep believing in me."