Police have cleared a makeshift camp along disused railway tracks on the edge of Paris that was home to hundreds of Roma people, citing sanitary concerns. Around 400 people had been living in shacks at the camp along the Petite Ceinture, a former railway line that once encircled the French capital, since the summer of 2015. Many of the camp's residents had left in anticipation of the police action; those who remained left calmly as they were evicted.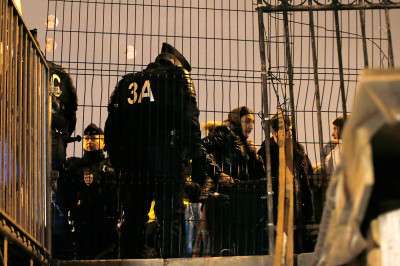 The deputy prefect of police headquarters, Yann Drouet, said that the evacuation was necessary due to precarious conditions of the camp. "We are here to enforce a decision made by the District Court of Paris, we are being assisted by a bailiff for the dismantling of the camp, a camp that is particularly dangerous with significant health risks, a level of squalor as you have seen and a high risk of fire. So this evacuation was necessary as much for the implementation of the court's decision as for the protection of people," he said.
Drouet said the operation was well prepared and that local authorities and NGOs would help support and accommodate the expelled Roma people: "This is not an operation that has been conducted out of the blue, there have been many weeks of preparation with several social investigations, several health investigations, alternative proposals made to the people concerned."
Amnesty International urged city authorities to find a lasting housing solution and said those expelled would become homeless in midwinter – or just build a new camp elsewhere. The site, in the 18th arrondissement of Paris, belongs to national railway authority SNCF, which declined to comment. Thousands of Roma people, also known as gypsies, live in shanty towns around France, often without water or electricity. They routinely face discrimination and evacuations.