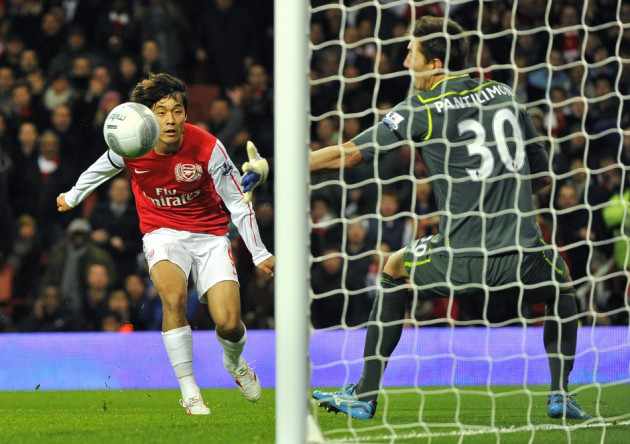 Arsenal striker Park Chu-Young' hopes of ending his north London nightmare have been dashed after Wigan Athletic manager Owen Coyle confirmed the Premier League leaders had blocked a loan move for the South Korean international.
Park, who scored four goals in 26 appearances while on loan at Celta Vigo last season, is hoping a loan move away from the Emirates Stadium can spark a recall to the South Korea squad in time for the 2014 World Cup where he can then put himself in the shop window for a permanent move next summer.
Despite Arsenal being short of strikers, with Olivier Giroud and Nicklas Bendtner the only senior forward available to Arsene Wenger, the 28 year old hasn't been entrusted with first-team responsibilities this season as his career in north London continues to dwindle.
Wigan were hoping to add Park to their artillery in the Football League loan window which runs until the start of November however according to Latics boss Owen Coyle The Gunners blocked the move after the clubs failed to agree financial terms.
"We've spoken to Arsenal about Park, and the discussions regarding the footballing side went very well," Coyle said.
"Jonathan (Jackson, chief executive) was also having discussions with the financial people at Arsenal, but I think the package was just a little out of our reach at this moment in time.
"What people have got to understand is that, while we are looking to bring in very good players - which we have done - we will only pay Championship salaries, albeit with incentives and bonuses to do well.
"The players we have brought in have all come within our budget, and that will continue to be the case."
Following relegation from the Premier League after an eight-year spell in the top flight, Wigan - last season's FA Cup winners - have recruited Scott Carson, James Perch and James McClean among others while Nick Powell has joined on loan from Manchester United.
With Europa League and Championship commitments to juggle, Coyle has a vast squad to play with this season however having scored just 14 times in nine league games, goals have been hard to come by.
Huddersfield Town chairman Dean Hoyle has been among those criticising clubs for taking financial risks in order to win promotion to the Premier League, with relegated Queens Park Rangers signing Charlie Austin from Burnley for a reported fee in excess of £4m.
But after seeing a move for Park fall through Coyle says Wigan will not compromise their financial standing in order to sign new players.
"I've heard a lot lately about the amount of money being spent by Championship clubs, but that is not an issue for Wigan Athletic," Coyle added.
"We run our football club very astutely, and we make sure we will never be in financial trouble.
"Several of the players we brought in over the summer took wage cuts to come here, such was their desire to come, and that's the way we go about our business.
"QPR spent more on one player - Charlie Austin - than we paid in total for our summer spending. That shows you how hard we have worked on that side of things, and come January there will be money available for us to strengthen further.
"We'd have loved to get Park in, of course we would, but we also have to understand the financial situation.
"It's not closed by any means, dialogue will continue between Jonathan and Arsenal and we'll see where it takes us.
"I'm led to believe that the lad himself is keen to come, because he wants to put himself in the shop window before the World Cup next summer. But it can only happen if there is a financial agreement, and that is what we are working on at the moment."