South Korea's ousted leader Park Geun-hye is maintaining her silence after the constitutional court upheld the decision to impeach her.
While Park, South Korea's first democratically elected leader to be removed from office, is said to be in a state of shock over the verdict, she is expected to move out of the presidential palace on Monday, 13 March.
"The [former] president has been in a state of shock, and it appears that she needs time to come to terms with what has happened to her," one of Park's aides told South Korea's Yonhap news agency.
The court had endorsed parliament's earlier decision in December 2016 that Park should be impeached from the presidential office for her role in the influence-peddling scandal. Park has been accused of allowing her confidante, Choi Soon-sil, to access sensitive government documents and meddle in political affairs. However, Park had denied any wrongdoing.
Subsequent to the court's verdict, which is final and there is no legal recourse for Park, the ousted leader is set to relocate to her private residence in Samseong-dong in southern Seoul, where she had lived from 1990 to 2013. The house is currently undergoing renovation.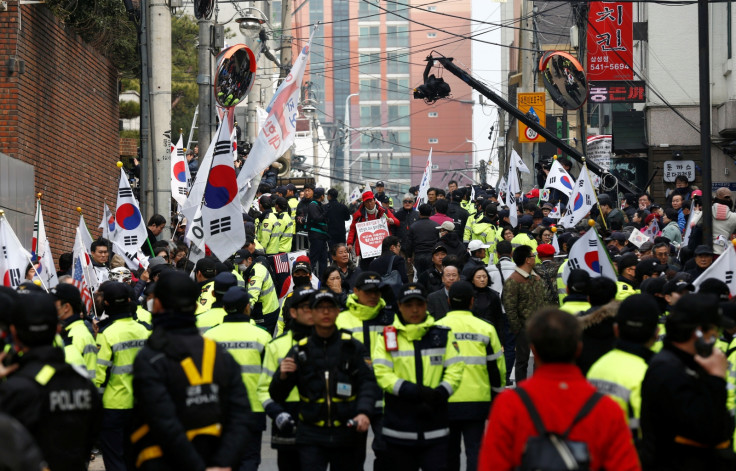 Meanwhile, the presidential frontrunner Moon Jae-in has said the investigation against Park should begin swiftly and insisted there should no delay in the legal proceedings. Moon, a former chief of the Democratic Party, said: "We need to pursue principled unity of respecting and embracing minor opinions within the boundaries of democracy while clearly removing old evils.
"But we need tolerance too. When the large number of people who attended the candlelight rallies provide comfort to those who opposed the impeachment and feel a sense of loss, they will feel more proud of the country and being members of it."